Palomar Technologies of Carlsbad, CA, USA has tripled cleanroom space for its Palomar Microelectronics assembly & test division and increased its prototyping, applications engineering, process development, volume assembly, and test services capabilities.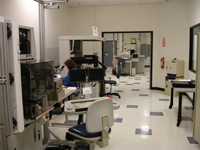 The firm says that its new 2500 square foot (232.26m²) class 100,000 and 500 square foot (46.45m²) class 10,000 cleanrooms enable rapid prototyping and fast turn-around so OEMs can get their products into development or to market faster.
Processes include wire bonding, gold ball bumping, and precision component placement for semiconductor packages, high-power LEDs, MEMS devices, microwave and RF components, optoelectronic packages, multichip modules, and hybrids.
"The new cleanroom space allows us to provide microelectronic services for many of the emerging technologies in areas such as MEMS, high-brightness LEDs, and other advanced packaging applications and to speed delivery of these services," says Palomar Microelectronics' operations manager Donald Beck.
Visit: www.palomartechnologies.com