News
18 August 2008
U-L-M qualifies ALSI laser dicing system for VCSELs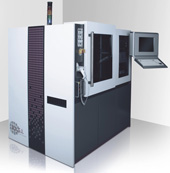 Philips Technologie GmbH subsidiary U-L-M Photonics has qualified and purchased a laser dicing system from Advanced Laser dicing Separation International nv (ALSI) of Beuningen, The Netherlands.
Picture: DCM 802 system, capable of processing 2 inch to 8 inch wafers.
U-L-M Photonics, which has laser design, R&D and production in Ulm, Germany, manufactures products such as single-mode vertical-cavity surface-emitting lasers (VCSELs) for computer mouse tracking systems and other VCSEL products for various sensor and datacom applications.
ALSI's multibeam laser dicing technology enables U-L-M to increase the wafer yield, die quality, and throughput time of the dicing process significantly, says U-L-M's Dieter Wiedenmann, co-founder and manager of quality assurance. "This technology will support U-L-M Photonics vitaly to execute our technology and cost roadmap."
Laser dicing with ALSI's specific multibeam laser concept has previously been proven in many compound semiconductor production applications and is used in the RFIC, LED and solar cell industries, says René Hendriks, director of sales. VCSEL laser dicing has uncovered new challenges for process development, but ALSI's partnership with U-L-M has resulted in a quick and successful qualification process, he adds, as well as broadening ALSI's expertise in laser dicing.
Search: Laser dicing VCSELs
Visit: www.laserdicing.com
Visit:
www.ulm-photonics.de