News
29 August 2008
LED 'shimmer wall' to illuminate Raleigh convention center
On 4 September, the grand opening of the new 500,000-square-foot convention center in downtown Raleigh, NC, USA will include unveiling a 'shimmer wall' art installation adorning one side of the exterior, funded by a $1m donation from local LED maker Cree Inc.
Raleigh was the first city to join the LED City program, which is a community of government and industry parties launched with Cree in February 2007 to promote and deploy LED lighting technology across municipal infrastructure. The program has since been joined by Ann Arbor, MI, Austin, TX and Anchorage, AK in the USA, Toronto, Ontario in Canada, and Tianjin in China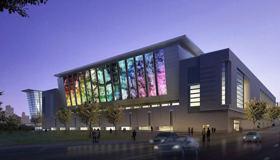 Covering up the convention center's air-conditioning system from the 80,000 motorists per day entering downtown Raleigh from the south, the 211ft long by 44ft high shimmer wall consists of 79,464 4-inch squares ('pixels') of aluminum that hang on louvers in 4ft-square grids. Since Raleigh's nickname is 'City of Oaks', in daytime the wall will depict an oak tree that changes shape and disappears as the aluminum squares ripple in the breeze.
However, to aid night-time 'shimmering', 1344 LEDs from Cree backlight the wall. The wall contains 28 fixtures, each 4 feet long with 12 LEDs per foot (including RGB lens optics). The fixtures can be programmed to flash and display more than a million different colors.
See related item:
Cree and Raleigh launch 'LED City' municipal lighting initiative
Visit: www.cree.com
Visit:
www.raleighconvention.com