News
18 December 2008
Cree samples high-efficiency 120W GaN HEMT microwave transistor
Cree Inc of Durham, NC, USA has announced the sample release of a highly efficient 120W gallium nitride (GaN) HEMT microwave transistor for general-purpose military and industrial applications (such as electronic warfare, tactical communications, radar, instrumentation and direct video broadcast). Cree claims that the transistor provides outstanding RF power performance over wide instantaneous bandwidths compared to other technologies such as GaAs MESFET or Si LDMOSFET.
The CGH40120F consists of a single, unmatched GaN HEMT die providing a minimum of 120W of saturated output power at 28V, in a small, industry-standard, flanged ceramic-metal package. The transistor's performance has been demonstrated in a number of amplifier applications, including a 1200-1400MHz instantaneous-bandwidth reference amplifier that offers greater than 18dB typical small-signal gain, 100W typical CW output power, and typical power-added efficiencies of 75% across the entire band. Similar amplifiers have also been demonstrated over the 800-1300MHz frequency range with output powers greater than 90W at efficiencies greater than 65%.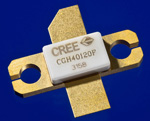 "The CGH40120F is an important addition to our general-purpose GaN HEMT product family [available with power outputs of 10W, 25W, 35W, 45W and 90W]," says Jim Milligan, director of RF and microwave products. "This part has been engineered for use in a wide variety of applications, including high-efficiency pulsed modes with duty cycles extending to CW operation," he adds. The transistor's power and efficiency can positively impact system thermal design, cooling costs, and DC power distribution for both current- and next-generation systems, he claims.
See related item:
Cree samples high-efficiency 90W wideband GaN HEMT
Visit: www.cree.com