News
19 December 2008
Cree announces volume availability of brightest lighting-class LEDs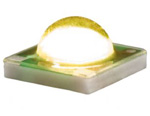 Cree Inc of Durham, NC, USA has announced the high-volume availability of lighting-class XLamp XP-E LEDs with light output of up to 122 lumens.
Cree now offers XLamp XP-E cool-white LEDs - with a color correlated temperature (CCT) of 5000–10,000K - in a minimum R2 flux bin (114-122lm at 350mA). This is the highest commercially available minimum-flux order code for a single-die LED (at 350mA) in the industry, Cree claims.
Cree says that the volume availability of XLamp LEDs is aimed at further stimulating the LED lighting market, driving applications in outdoor and indoor general illumination as well as portable and retail display lighting. "In the past 18 months, Cree has shipped millions of 100+ lumen XLamp LEDs," says Paul Thieken, marketing director for LED components.
See related items:
Cree claims smallest lighting-class LEDs
Cree demonstrating multi-chip XLamp MC-E LED
Cree expands XLamp XR-C LED family to full range of colors
Visit: www.cree.com/r2