News
9 December 2008
Indium Corp promotes Giasone to metals manager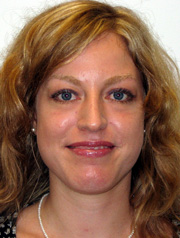 Indium Corp of Clinton, NY, USA has promoted Emily Giasone to metals manager for its Metals, Chemicals and Energy (MCE) business unit, responsible for purchasing and trading indium, gallium, germanium and bismuth raw materials, selling select MCE products in the China market, and gathering and synthesizing market data from refineries and traders to guide metal purchases and pricing.
Picture: Emily Giasone.
Giasone is based in Turin, Italy and reports to Claire Mikolajczak, director of Metals and Chemicals. She joined Indium Corp in 2006 as an account specialist, contributing to the firm's growing metals business, especially indium and germanium. Previously, Giasone earned a degree in Modern Chinese Language from the European Centre of Middle and Far East Studies in Turin.
Indium Corp supplies materials to the electronics assembly, semiconductor fabrication and packaging, solar photovoltaic, and thermal management markets, and has facilities in China, Singapore, South Korea, the UK, and the USA.

Search: Indium Corp Indium Gallium Germanium
Visit: www.indium.com