News
19 December 2008
JDSU promotes Communications Test & Measurement president to CEO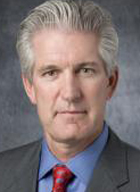 JDSU of Milpitas, CA, USA, which makes optical components for communications, commercial and consumer markets as well as test & measurement equipment, has promoted Thomas Waechter (president of its largest business segment, Communications Test & Measurement) to president & CEO, effective 1 January 2009. Waechter will also be appointed to JDSU's board of directors.
Picture: Thomas Waechter.
Prior to joining JDSU in 2007, Waechter held a variety of executive positions including CEO for three public companies. As president & CEO of Stratex, he grew revenue substantially and improved profitability and was instrumental in driving its merger with Harris, an independent supplier of wireless transmission systems.
Waechter's experience also includes 14 years with multi-national Schlumberger. Over the last eight years he has gained experience in the telecoms industry as CEO and chief operating officer of a number of public companies.
"After a thorough search process we believe we have selected the candidate that best matches the requirements for leading the company during these challenging economic times," says chairman Marty Kaplan. "Since joining JDSU last year, Tom has already made significant contributions to the company's success through operational excellence as well as strategic acquisitions," he adds.
"My priorities are clear: focus the collective talent and commitment of JDSU to support our worldwide customer base and ensure our joint success in today's economic climate," says Waechter.
"Tom is an excellent choice to lead JDSU, and I look forward to continue working with him through my board participation," says outgoing president & CEO Kevin Kennedy. Kennedy announced at the end of October that he will be stepping down, following JDSU's third consecutive quarterly loss in Q3/2008 (on revenue at the lower end of its guidance range).
A search for a replacement president of the Communications Test and Measurement business segment (including both internal and external candidates) is currently underway. David Holly, senior VP in Communications Test and Measurement, will have interim responsibility for day-to-day operations.
See related items:
CEO and 400 jobs to go as JDSU closes seven R&D centers & three plants
JDSU growth driven by optical communications

Search: JDSU Optical communications
Visit: www.jdsu.com