News
5 December 2008
SemiLEDs selected as Technology Pioneer by World Economic Forum
SemiLEDs Corp of Boise, ID, USA, which manufactures HB-LEDs at its plant in Hsinchu Science Park, Taiwan, is one of 34 firms selected by The World Economic Forum for recognition as a 2009 Technology Pioneer for "accomplishments as innovators of the highest caliber, and whose technologies will have a deep impact on business and society".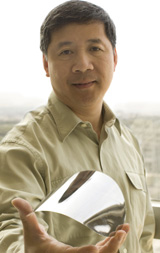 To be selected as a Technology Pioneer, a company must be involved in the development of life-changing technology innovation and have the potential for long-term impact on business and society. It must also demonstrate visionary leadership, show all the signs of being a long-standing market leader, and its technology must be proven. SemiLEDs has been named in the Energy/Environment sector for high-efficiency and low-cost LED technology for solid-state lighting.
Picture: Chairman & CEO Trung Tri Doan with a 6-inch high-power LED (HPLED) wafer on flexible copper alloy.
Founded in December 2004, SemiLEDs was the first company to mass produce high-power LEDs on a flexible copper alloy base. The firm claims that its 'metal vertical photon' (Mvp) LEDs have better electrical and thermal conductivity, making them brighter, more efficient (>100 lumens/Watt) and less prone to overheating. It also claims that its technology proves that an energy saving of more than 50% for commercial, public and residential lighting is achievable at a cost similar to conventional light sources.
SemiLEDs says that it is also using its metal alloy technology to produce ultraviolet (UVA) HB-LEDs for applications in sterilization (e.g. in rural areas).
See related item:
SemiLEDs launches low-voltage LEDs for battery-powered mobile appliances
SemiLEDs orders Ultratech projection stepper for LED mass production
Semi-Photonics begins transition to 4 inch GaN with Aixtron AIX 2800G4 HT system
Visit: www.semileds.com
Visit: www.weforum.org