News
18 December 2008
In-line CIGS and CdTe PV film composition analysis and thickness measurement
X-ray fluorescence (XRF) analysis system maker Solar Metrology of Hollbrook, NY, USA has expanded its System SMX portfolio, which provides a production-ready suite of thin-film thickness and composition measurement tools for research and process development, in-process monitoring and post-process quality control.
The new model SMX-ILH (In-Line x-ray Head) is designed for in-line composition and thickness control of copper indium gallium diselenide (CIGS) and cadmium telluride (CdTe) photovoltaic (PV) thin films. It offers a full (600mm x 1200mm) lateral range of measurement and can be inserted into printed, electrochemical and thermal film deposition processes.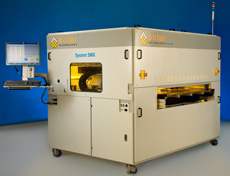 SMX-ILH provides process control for active, contact and TCO layers in PV thin-film stacks, and is capable of analyzing rigid glass, flexible stainless steel, and polyimide roll-to-roll substrates. An optional proprietary thermal shield allows film control at panel temperatures of up to 300ºC.
Offering fast and repeatable copper-to-gallium ratio determination and both cross-web and cross-panel gradient analysis capability, SMX-ILH tools enable CIGS and CdTe PV panel manufacturers to realize significant yield improvements and conversion efficiency gains in production, the firm claims.
*Solar Metrology is also offering a 12-page XRF technology guide for CIGS and CdTe PV thin-film composition and thickness measurement, describing typical XRF tool layout and sub-assemblies along with the features and benefits of various methods relevant to solar PV film control.
The guide is designed to inform the user on the basic theory and operation of the systems, and covers topics such as generation and detection columns (tubes, collimation, detectors, processing), algorithmic tools, and user interfaces. It is intended as a quick reference to determine the appropriate insertion points of XRF measurement equipment for specific CIS, CIGS and CdTe PV applications.

Search: CIGS CdTe PV thin films XRF analysis
Visit: www.solarmetrology.com