News
10 December 2008
TriQuint's Quinsey named technology 'CEO of the Year' by Portland Business Journal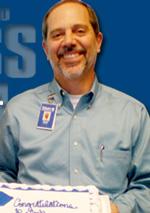 Ralph Quinsey, chief executive officer of RF product manufacturer and foundry services provider TriQuint Semiconductor Inc of Hillsboro, OR, USA, has received the Portland Business Journal's 'CEO of the Year' award for technology companies in Oregon. The award was presented at the journal's Annual Most Admired Companies Award Luncheon, attended by more than 800 executives of Oregon's top companies. Quinsey will also be profiled in the 'Most Admired Companies' special publication of the Portland Business Journal.
"Ralph stood out as the technology executive of the year for several reasons, including the company's strong recent financial performance and the positive changes he's made in the company's culture," said editor Rob Smith. "TriQuint also has a strong reputation for customer satisfaction and quality products," he added. TriQuint recently reported third-quarter revenue up 47% sequentially to a record $186.3m, and major design wins are ramping in 3G mobile phones and wireless-enabled laptops.
"I am thrilled that this award may further shine light on the innovative solutions the TriQuint team is delivering," said Quinsey.
See related item:
WJ boosts TriQuint's 47% growth as profit triples

Search: TriQuint
Visit: www.triquint.com