News
11 December 2008
New site doubles size of TriQuint's North Carolina Design Center
RF product manufacturer and foundry services provider TriQuint Semiconductor Inc of Hillsboro, OR, USA says that its design center in High Point, North Carolina has moved into a new facility to accommodate its growing handset business.
The center opened two years ago with one person and now hosts a team of RF engineers. The team, with a dozen patents and more than 300 years of collective experience in electrical engineering and technical support, develops TriQuint's latest module solutions for mobile phone makers. The new facility is double the size of the first location and will accommodate future growth.
"The new facility has state-of-the-art equipment to complement our strong RF engineers in developing world-class solutions for our growing customer base," says Darrell Epperson, manager of TriQuint North Carolina.
To augment the North Carolina Design Center's products, technologists at TriQuint's facilities in Oregon, Massachusetts, Florida, and Munich, Germany design the firm's other handset product families, including 3G solutions that have been adopted by most of the major smart-phone manufacturers. TriQuint's mobile handset business uses the firm's broad in-house technology portfolio to design and develop RF front-end solutions including power amplifiers and integrated transmit modules.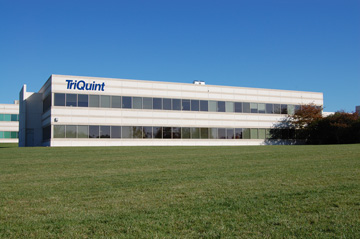 See related item:
WJ boosts TriQuint's 47% growth as profit triples

Search: TriQuint
Visit: www.triquint.com