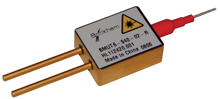 Optical component, module and subsystem maker Bookham Inc of San Jose, CA, USA has launched a fully qualified high-power multimode pump module offering up to 6W power.
The module, designed to provide the power and reliability required for pumping next-generation amplifiers in cable and FTTx networks, offers a 50% power increase from Bookham's previous generation of multimode pump modules, and is thought to be the industry's highest-power telecom-grade multimode pump module.
Bookham says that the Telcordia GR-468-CORE qualified 6W uncooled fiber-coupled multimode laser diode allows service providers to extend triple-play service delivery to fiber users located further away from the central office or the cable head-end. The high-power product supports various pumping applications and enables network providers to deliver a new class of optical amplifier based on erbium-doped air-clad fiber technology, the firm claims, allowing providers to replace DSL running on coax/copper with GPONs (Gigabit passive optical networks) running on fiber to deliver higher capacity and improved quality of service.
The 6W module is built on chips from Bookham's facility in Zurich, Switzerland incorporating the firm's proprietary passivation technology, which suppresses catastrophic optical damage (COD) to the laser diode facet, even at very high power levels, says product line manager Simon Loten. "The module offers vastly improved thermal impedance of the design, and an extremely efficient chip enables improved end-to-end power conversion, offering customers lower power consumption and reduced temperature dependency."
The pump module offers up to 6W in a 105 micron multimode fiber with anumerical aperture (NA) of 0.22, and comes in a hermetically sealed two-pin package with floating anode/cathode. The pump module is built on field-proven technologies used within Bookham's 980nm single-mode pump laser module series, which has now shipped 500,000 units since its introduction in 1995.
*At this week's Optical Fiber Communication conference and National Fiber Optic Engineers Conference ( OFC/NFOEC 2008) in San Diego, CA, USA , Bookham is presenting the paper '30dBm Wideband Air-Clad EDFA Using Two Pump Lasers', outlining the application of new high-power multimode pumps in the new class of amplifier.
See related item:
Bookham growth driven by tunables and 980nm pumps, but legacy product fall-off to hit margins in short term
Search: Bookham
Visit: www.bookham.com