At this week's GMSA Mobile World Congress 2008 in Barcelona, Spain (11-14 February), Tokyo-based Fujitsu Ltd is launching what it claims is the world's smallest RF module to feature all of the RF circuitry necessary for the mobile WiMAX standard (IEEE 802.16e-2005), including an RFIC, antenna switches, a power amplifier, filters, and an oscillator circuit.
Co-developed with Fujitsu Laboratories Ltd, the MB86K71 module was designed using 90nm CMOS process technology for the RFIC, has 94 pins (with a pitch of 0.5mm), and measures just 15mm x 15mm x 1.5mm, enabling a significant reduction of the form-factor of mobile WiMAX devices.
Operating in the 2.496-2.69GHz RF band, the new module supports multiple input, multiple output (MIMO) technology, which uses multiple antennas at both the transmitter and receiver to achieve high-speed and reliable wireless connections (essential for mobile WiMAX devices, says Fujitsu). The module also supports the WiMAX Forum's Wave 2 specifications (for certification testing for mobile WiMAX equipment using MIMO).
The firm has also verified that the module can be connected to its existing MB86K21 mobile WiMAX baseband chip, enabling faster development and time to market for devices.
Mobile WiMAX service is scheduled to start in the USA and Taiwan this year, followed by Japan in 2009. With the ramp-up of WiMAX, opportunities for new markets and services are expected to be created.
Samples of the MB86K71 are scheduled to start shipping at the end of February for ¥5000. Fujitsu is targeting accumulated revenues of ¥5bn by the end of fiscal 2010 (to end-March 2011).
Fujitsu says that it will continue to pursue the integration of baseband chips and RF modules and, as well as adding products to its line-up that will feature even lower power consumption and smaller form-factors, it aims to contribute to the expansion of the mobile WiMAX market through the further miniaturization of RFICs.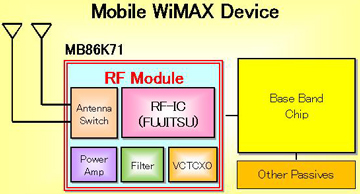 See related items:
Fujitsu launches GaN HEMT-based mobile WiMAX base-stations
Fujitsu presents first 77GHz CMOS-based PA
Visit:
www.fujitsu.com