Mimix Broadband Inc of Houston, TX, USA has made available engineering samples of a gallium arsenide (GaAs) HBT-based monolithic microwave integrated circuit (MMIC) sub-harmonic image reject mixer covering the 32-42GHz frequency bands, for use in transmit and receive frequency conversion applications. Production quantities will be available within 12 weeks.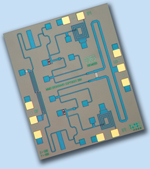 The XM1003-BD mixer has conversion loss of 9dB, with 18dB image rejection and +14dBm input third order intercept point (IIP3), and is suited to wireless communications applications such as millimeter-wave point-to-point radio, local multipoint distribution services (LMDS), SATCOM and VSAT.
Picture: XM1003-BD mixer.
"The XM1003-BD offers a very low-cost solution for up- and down-conversion applications over the 32-42 GHz frequency band," says product manager Paul Beasly. "It utilizes a passive, sub-harmonic mixer technology which makes it quite versatile and easy to implement for a wide range of applications," he adds.
Mimix performs 100% on-wafer RF testing on the XM1003-BD, as well as 100% visual inspection to MIL-STD-883 method 2010. The chip also has surface passivation to protect and provide a rugged part with backside via holes and gold metallization to allow either a conductive epoxy or eutectic solder die attach process.
Search: Mimix GaAs HBT GaAs MMIC
Visit: www.mimixbroadband.com