Osram Opto Semiconductors GmbH of Regensburg, Germany says that its new Golden DRAGON Plus is 15% brighter than its standard Golden DRAGON.
Together with the high-performance thin-film chip, thermal coupling between the chip and the package, the heat removal properties of its SMT package, and optimized silicon encapsulation, an integrated silicon lens increases the light extraction efficiency considerably. With an operating current of only 350mA and power consumption of 1W, the new generation of single-chip Golden DRAGON Plus LEDs typically achieves 85lm in cold white, 75lm in neutral white and 55lm in warm white versions, says the firm.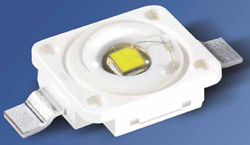 The high-intensity single-chip LED can handle currents up to 1A in continuous operation and will last up to 50,000 hours. Its solder pad is the same as that for the other members of the DRAGON family. The LED is also suitable for standard solder processes. The maximum barrier junction temperature is 125°C, and the thermal resistance is typically 9K/W (maximum 11K/W).
Osram Opto says that the Golden DRAGON Plus' beam characteristics suit secondary optics, broadening its range of applications in general lighting (street lighting, tunnel lighting, all indoor lighting from reading lights to recessed ceiling light, display lighting, furniture lighting, decorative lighting and designer luminaires).
Search: Osram Golden DRAGON LEDs
Visit: www.osram-os.com