The photovoltaics (PV) market will grow at a compound average annual growth rate (CAGR) of 14.9% from $12.9bn in 2007 to over $32.3bn by 2012, according to the report 'Photovoltaics: global markets & technologies' (EGY014F) from BCC Research.
Shipments of PV cells/modules reached 2,875.1MW in 2007, and are projected to grow by 28.6% to 3,697.3MW by 2008, and at a CAGR of 30% to 13,724.4MW by 2013.
The rapid growth in PVs will be driven by the global demand for energy of all kinds, the potential problems of climate change, the renewable features of solar energy, and improvements in PV technology and materials, the market research firm says. PVs will increasingly be made part of industrial and living structures.
Silicon technology, which accounted for about 89% of the market in 2007, will continue to dominate through to the end of the forecast period. Multicrystalline silicon will grow at 285% through 2013. However, although recent improvements in this traditional technology and its reliability will keep it at the forefront, silicon will drop to 79% of the market by 2013.
Thin films, while currently just 10% of the market, will grow rapidly at 45% through 2013 due to improvements in efficiencies and the use of these materials on flexible substrates. Thin films will account for almost 19% of the PV market by the end of the forecast period.
New technologies, such as nanostructured thin films and silicon and dye-sensitized solar cells, accounted for just under 0.5% of the market in 2007 but will grow at 34% to 19.2MW in 2008 and then at 50% annually to 145.7MW by 2013. R&D efforts on these new materials have been constant and results are only now starting to appear, BCC Research notes.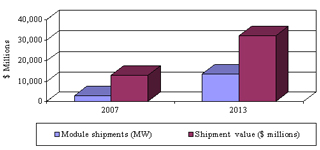 Search: Photovoltaic
Visit: www.bccresearch.com