Nitronex Corp of Durham, NC, USA, which manufactures gallium nitride on silicon (GaN-on-Si) RF power transistors for wireless infrastructure and broadband markets, has partnered with Prescient Wireless of Itasca, IL, a supplier of RF products and design services to the wireless and avionics industries, to develop a broadband Doherty power amplifier for WiMAX applications.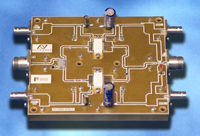 Based on Nitronex's NPT25100, the design provides 20W linear power from 2.5 to 2.7GHz while achieving over 30% efficiency, and 2% EVM (error vector magnitude) with digital pre-distortion.
Picture: Broadband Doherty power amplifier for WiMAX applications.
"Customers asked us to increase our power levels while further reducing our industry-leading price point for WiMAX power amplifiers," says marketing director Ray Campton. "Prescient Wireless' expertise in power amplifier design allows us to deliver a reference design with instant credibility in the wireless infrastructure field."
Typical performance numbers were taken using a mobile WiMAX waveform defined as single-carrier OFDMA (orthogonal frequency-division multiplexing access) 64-QAM 3/4, 10MHz channel bandwidth, and 9.5dB peak/average ratio (PAR) @ 0.01% probability during the transmit portion of a 50% duty cycle TDD signal.
The reference design consists of the schematic, bill of materials, circuit board layout files, detailed performance data, and other documents describing the design. Built and tested Doherty application boards are available for a suggested resale price of $1950.
Both the reference design and the Doherty design based on the NPT25015 are being shown at this week's Radio & Wireless Symposium in Orlando, FL (22-23 January).
See related item:
Nitronex unveils GaN-on-Si broadband Doherty PA reference design for WiMAX
Search: Nitronex Gallium nitride on silicon
Visit: www.nitronex.com
Visit:
www.prescientwireless.com