SiGe Semiconductor Inc of Metheun, MA, USA and Ottawa, Canada has launched two RF front-end modules with performance that enables new wireless multimedia services in client access applications, including game consoles, desktop and laptop computers, and home access points.
The SE2547A and SE2548A are complete 802.11a/b/g/n wireless local-area network (WLAN) RF front-end modules providing all the functionality required between the transceiver and the antenna in dual-band Wi-Fi systems. The devices each include the necessary power amplifiers, filtering, power detector, diversity switch, diplexers and associated matching circuitry in a fully tested module that measures just 25mm² (about one-third the size of previous front-end modules on the market, the firm claims).
The high level of integration (with two devices having a footprint previously occupied by just one) suits portable and consumer applications, including mini-cards for personal computing. Small consumer applications can therefore now provide greater throughput and performance in support of emerging wireless multimedia applications (such as media distribution throughout the home).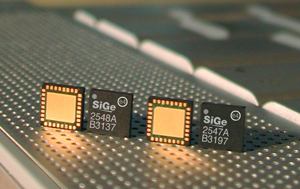 Picture: SiGe Semiconductor's two new RF front-end modules with performance that enables new wireless multimedia services in client access applications.
"Customers have confirmed that the SE2547A and the SE2548A are the leading devices currently sampling with this level of integration," says Jose Harrison, director product marketing, computer and consumer. "We are working with these customers on designs that will be on store shelves in Q3/2008."
The new modules can be used alone or in stacked configurations to support multi-stream applications. The SE2548A has a single antenna port, allowing it to be used in two stream by three antenna configuration. The SE2547A has two antenna ports, allowing two stream by three antenna or two stream by four antenna configurations.
Systems based on the SE2547A or SE2548A can achieve excellent linearity at industry-leading transmit power levels of +18dBm in 2.5GHz and +17dBm at 5GHz, with best-in-class ACPR performance, claims SiGe. The modules also include a transmitter power detector for each band and transmit chain, with 20dB of dynamic range for each transmit chain. Moreover, the high linearity optimizes transmission of greater data rates over longer distances, allowing systems to support emerging 802.11n applications such as video distribution, video streaming and high-speed data.
All RF ports are matched to 50 Ω, which simplifies PCB layout and the interface to the transceiver RFIC. Each transmit chain has a separate digital enable control pin for transmitter power ramp on/off control to aid in power management. The RF front-end modules provide all matching and tuning and are fully tested, which simplifies design to speed time-to-market.
The SE2547A and SE2548A are priced at $2.15 and $2.05, respectively, in 10,000 unit volumes.
See related item:
SiGe expands Asian design & application capabilities in Hong Kong
Search: SiGe Semiconductor SiGe RF front-end modules
Visit: www.sige.com