News
17 July 2008
Bookham supplies full-band tunable pluggable transceiver to Ciena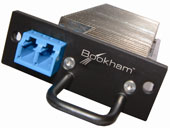 Optical component, module and subsystem maker Bookham Inc of San Jose, CA, USA has begun supplying its LambdaFLEX TL8000 full-band tunable pluggable transceiver to network specialist Ciena Corp for its high-end switching and transmission systems (including its CoreDirector Multiservice Switch, CoreStream Agility Optical Transport System and CN 4200 FlexSelect Advanced Services Platform) for both core and metro network applications.
"We made the decision to use this next-generation footprint tunable pluggable module for our 10Gb/s transmission to provide our customers superior shelf density, pay-as-you-grow optical scalability and reduced hardware sparing," says Ciena's senior product marketing manager James Zik. "The Bookham product offers Ciena the ability to achieve flexible, multi-reach 10Gb/s integration with removable line-side optics for enhanced service ability at lower cost points, as well as the ability to incorporate unforeseen future enhancements on a per-channel basis," he adds.
The LambdaFLEX TL8000 module uses fully Telcordia-qualified Bookham components, including the firm's tunable transmitter with indium phosphide Mach Zehnder (InP MZ) modulator and DSDBR ( digital supermode distributed Bragg reflector) wideband tunable laser. The TL8000 also includes Bookham's 10Gb/s avalanche photodiode (APD) receiver combined with electronic dispersion compensation (EDC), which provides enhanced performance in low optical signal-to-noise ratio ( OSNR) environments, and makes the product suitable for use across both long-haul and metro links.
"Our TL8000 makes the convergence of fullband tunability and faceplate pluggability a market reality, and achieves the ultimate component - a 'universal' transceiver providing customers with new levels of flexibility, agility, performance and market differentiation," claims Bookham's VP telecom sales, Yves LeMaitre.
"We are seeing significant growth in market share with our iTLA (integrable Tunable Laser Assembly), and both our TTA (Tunable Transmitter Assembly) and TSFF (Tunable Small Form Factor Transponder) were industry firsts," LeMaitre claims. "The tunable pluggable transceiver now offers customers a third technology option for 10Gb/s optical transmission." Bookham and Ciena will show the new device on the Bookham booth at the ECOC Exhibition in Brussels (22-24 September).
To further enhance its tunable pluggable portfolio, Bookham is also developing tunable XFP-E and XFP MSA standard devices, and other transceiver formats are under review.
Search: Bookham Mach Zehnder InP
Visit: www.bookham.com