News
31 July 2008
Cree opens Shenzhen engineering center to aid LED luminaire design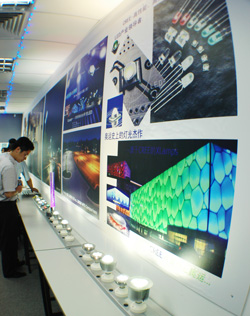 At the end of last week, LED maker Cree Inc of Durham, NC, USA opened the Cree Shenzhen Engineering Center in Shenzhen, China, a technical education center dedicated to training lighting product designers and manufacturers in best practices for LED lighting product design and construction.
Guests at the opening ceremony included Chen Yan Sheng, president of the China Association of Lighting Industry.
Co-located with the Cree Shenzhen sales office, the engineering center employs application engineering, technical and sales staff. Cree experts will teach courses and be available to consult with customers on XLamp LED-based designs, provide on-site handling guidance for LEDs during production, and evaluate LED designs for efficiency and performance.
The modular curriculum, taught in Mandarin, is designed to expand traditional lighting designers' and manufacturers' understanding and knowledge of the use of LEDs in general-illumination applications. The curriculum is targeted to include topics such as:
the basics of LEDs;
basic color theory and measurement;
circuitry design for driving Cree XLamp LEDs;
optical design for Cree XLamp LEDs;
common problems and answers.
For designers creating efficient LED fixtures, using Cree XLamp LEDs is only one element of a successful design, says George Li, Cree Hong Kong director of sales. "By helping our customers create more effective and efficient LED systems, we hope to accelerate the worldwide adoption of high-quality LED lighting."
Visit: www.cree.com