News
31 July 2008
LED City finds Anchorage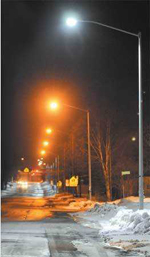 The Municipality of Anchorage, AK, USA has joined the LED City program, an international community of government and industry parties initiated by LED maker Cree Inc of Durham, NC, USA to evaluate, deploy and promote LED lighting for municipal infrastructure. The city's participation was announced in conjunction with an energy-related initiative calling for the retrofit of all 16,000 municipal roadway lights with high-efficiency LED fixtures.
Picture: Anchorage streetlights (courtesy of LED City website).
"I am pleased to announce the appropriation of $2.2 million to enable the city to purchase LED fixtures to change out roughly one-quarter of Anchorage's streetlights," said Anchorage mayor Mark Begich. "We have studied new lighting technology extensively over the past several months to validate energy and maintenance cost savings. We also conducted a lighting conference and public survey in March of this year that showed our residents overwhelmingly approve of the new white LED lighting. With this feedback and quantified costs savings research in hand, we are confident in moving ahead with the broad deployment of LED lighting for our roadways."
BetaLED will supply the LED fixtures, which are expected to use 50% less energy than current streetlights, which could save the city $360,000 annually. The LED fixtures, based on Cree XLampÒ LEDs, typically last up to seven times longer than high-pressure sodium fixtures.

"Lighting is absolutely critical to daily life in Anchorage. The continental US has more than eight hours of daylight per day. Here in Anchorage, approximately 85 days a year see less than eight hours of daylight. It is significant that this community is at the forefront of adopting energy-efficient lighting," notes Deb Lovig, Cree LED City program manager.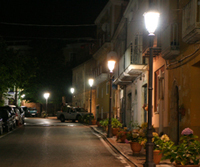 In May, Torraca, Italy officially joined the LED City program, following the conversion of all its streetlights to LED lighting late in 2007, which is estimated to have saved the city 75% in energy costs over traditional lighting.
Picture: Torraca streetlights (courtesy of LED City website).
Anchorage and Torraca join program members Raleigh, NC, USA; Toronto, Ontario, Canada; Ann Arbor, MI, USA; Austin, TX, USA; and Tianjin, China.
See related items:
Tianjin becomes China's first LED City

Austin joins LED City program
Ann Arbor joins LED City initiative
Toronto joins LED City initiative
Cree and Raleigh launch 'LED City' municipal lighting initiative
Visit: www.BetaLED.com
Visit: www.cree.com
Visit: www.ledcity.org