News
25 July 2008
Seoul launches top-view LEDs with high CRI, efficacy and reliability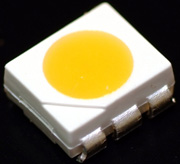 Seoul Semiconductor has launched a range of top-view LEDs with high color rendering index (CRI), high efficacy and high reliability.
Picture: Seoul Semiconductor's top-view LED.
The firm says that incandescent bulbs and halogen lamps have dominated the interior and display lighting market segments because of their high CRI (100). But, because of their low luminous efficacy (10-15lm/W), government authorities worldwide have passed legislation – to go into effect over the next few years - banning the sale of such products.
By comparison, the firm's warm-white LED (CAWT722-S) has a CRI of 96 and efficacy of 68.2lm/W, while the pure-white LED (CWT722-S) has a CRI of 92 and efficacy of 70.8lm/W. However, drive current is 60mA and a power consumption is 0.192W, so light outputs are just 13.1lm and 13.9lm, respectively. Life expectancy of the new LEDs exceeds 50,000hrs.
Search: Seoul Semiconductor LEDs
Visit: www.seoulsemicon.com