News
30 June 2008
Market for packaged LEDs in solid-state lighting to more than triple by 2012
The global market for solid-state lighting (SSL) illumination incorporating LEDs will more than triple from $283.95m in 2007 to $936.95m in 2012, despite strongly rising unit growth being partially offset by the continuing decline in average selling prices, according to a new forecast from market research firm ElectroniCast Consultants.
The Americas represented a 56% share of worldwide consumption in 2007 ($159m) and will almost quadruple to 65.6% ($614.41m) by 2012. The European market will almost triple from $66.2m to $194.6m, but still lose market share slightly from 23% to 21%. The Asia Pacific region (APAC) will grow from $58.71m in 2007 to $127.92m in 2012, but lose market share from 21% to 13.6%.
Figure: LED illumination market (in $m) by end-use region (source: ElectroniCast Consultants).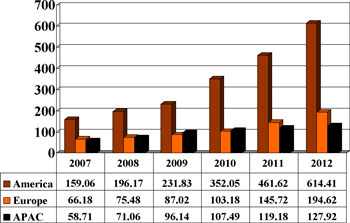 See related items:
Opto market to grow at 12% to $31bn by 2013
DOE releases Round 5 funding opportunity for SSL research
LED market growth to accelerate to 12% in 2008
DOE awards fourth-round funding for SSL development
Visit: www.electronicast.com