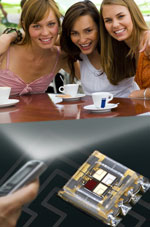 Osram Opto Semiconductors of Regensburg, Germany has launched a more compact and efficient version of its OSTAR Projection LED light source that uses surface mount technology, enabling it to be integrated into pico-projectors such as those now being incorporated in cell phones.
The new OSTAR Projection SMT LED measures just 5.8mm x 4.7mm x 1.5mm and, in contrast to its predecessor, does not have additional connectors or board for dissipating heat. The latest mini version is therefore suited to applications where space is limited, such as in pico-projectors, which can be either integrated directly into cell phones or attached to them as accessories. Due to SMT technology, the new OSTAR Projection now suits standard solder processes.
A pico-projector needs just one OSTAR module, which contains four 1mm² RGB chips (two green, one red and one blue). As an alternative to this RGB version, the OSTAR Projection SMT is also available with four ultra-white chips. Depending on the color, the chips are based on thin-film (ThinGaN) technology and are designed for optimum efficiency, the firm says. They are co-located with protective diodes on a ceramic carrier with a monolithic glass window that provides cover and protection.
As embedded versions with external dimensions of 1.5cm x 3cm, pico-projectors with the mini LED provide a system brightness of 10lm for a consumption of 1W. As accessory versions, pico-projectors measure 7.5cm x 7.5cm and can be operated with a higher wattage, achieving higher brightness values of more than 15lm.
Osram Opto claims that, with its high efficiency and compact dimensions, the OSTAR Projection SMT not only suits pico-projectors but is also providing fresh impetus for applications in the general lighting sector.
Samples are available now, with volume production due to start in the fall.
Search: Osram OSTAR LEDs Pico-projectors
Visit: www.osram-os.com