At this week's IEEE MTT-S International Microwave Symposium (IMS 2008) in Atlanta, GA, USA, Panasonic (Matsushita Electric Industrial Co Ltd) of Osaka, Japan reported the development of gallium nitride (GaN) amplifier ICs for receivers in future millimeter-wave communication systems. Gain is 22dB at 26GHz, which the firm claims is a record for GaN-based ICs at such high frequencies.
Integrated microstrip lines enable the very compact three-stage amplifier to be integrated on a single chip. This is achieved by developing a via-hole through chemically stable sapphire (formed by a novel laser drilling technique using a high-power pulsed laser). The integrated via-holes ensure good ground contacts, reducing transmission loss on cost-effective sapphire substrate.
In addition, Panasonic's proprietary metal-insulator- semiconductor (MIS) transistor, with a crystalline SiN film as the gate insulator, achieves a low noise figure of 1.4dB. The device technologies make possible high-gain and low-noise receiving ICs operating at the high frequencies at which signal intensity is drastically reduced in air.
Development is partially supported by 'The research and development project for expansion of radio spectrum resources' of Japan's Ministry of Internal Affairs and Communications. Applications have been filed for 29 domestic and 21 international patents.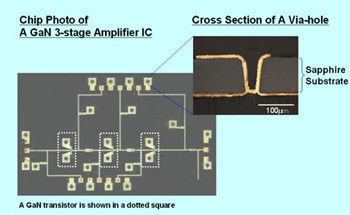 See related item:
Panasonic unveils GaN power transistor with 10kV breakdown voltage
Search: Panasonic GaN amplifier
Visit: http://panasonic.net