Tokyo-based Showa Denko KK (SDK) has started commercial shipment of aluminum gallium indium phosphide (AlGaInP) ultra-bright red LED chips with a luminous efficiency of 80lm/W, which is up 40% on its existing level and is claimed to be the highest on the market.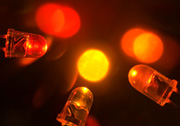 The high efficiency is attributed to the improved shape and arrangement of electrodes, as well as the improved chip surface treatment. The new product makes it possible to reduce the number of LED lamps while maintaining the same level of brightness, the firm says.
The chips are currently used mainly in outdoor displays, but applications being developed include automotive parts (rear lights, interior lighting) and LCD backlighting for flat-panel TVs. To meet growing demand, SDK aims to further improve the brightness of AlGaInP LED chips as well as provide them in a range of colors, such as red, orange, yellow and yellowish green, and in different sizes (as required by particular customers).
SDK is expanding its ultra-bright LED operations - consisting of AlGaInP LED chips and indium gallium nitride (InGaN) blue/green LED chips - as part of its ongoing 'Passion Project'.
See related items:
SDK to double red/yellow LED chip capacity
SDK expanding monthly blue LED chip capacity to 200m units by June 2008
Visit: www.sdk.co.jp