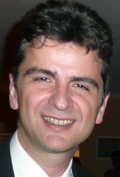 Sofradir of Veurey-Voroize, near Grenoble, France, which manufactures cooled infrared (IR) detectors based on mercury cadmium telluride (MCT), has promoted Jean-François Delepau from deputy director to managing director of its uncooled IR detector manufacturing subsidiary ULIS.
Picture: Jean-François Delepau becomes managing director of Sofradir'suncooled IR detector manufacturing subsidiary ULIS.
Delepau takes over from Jean-Pierre Chatard, who headed ULIS from 2002 and was one of the original founders of Sofradir.
"Jean-Pierre has been a visionary in the infrared field and has played an extremely important role in successfully positioning first Sofradir and then ULIS in their respective military, aerospace, and commercial markets," says Philippe Bensussan, chairman and CEO at Sofradir and chairman at ULIS. "ULIS is now entering a new phase and Jean-François' talent for innovation together with his pragmatic approach, backed by years of strategic management experience at world-leading electronics and telecom companies, will guide ULIS as it continues to grow."
Delepau's mission will be to reinforce ULIS' capacity to mass produce infrared imaging products and to create opportunities for further growth.
ULIS develops and manufactures uncooled IR detectors based on amorphous silicon technology, which can be produced cost-effectively (making infrared vision affordable for all applications, it is claimed). Camera applications include industrial maintenance, security and surveillance, building inspection, fire-fighting and law enforcement, and night-vision enhancements for vehicles.
Since its creation in 2002, ULIS has grown 50% annually on average. In 2007, ULIS contributed EUR39m ($60m) to revenues Sofradir's total revenues of EUR110m ($165m). At the end of April, GE (General Electric) acquired the 15% stake in ULIS of CEA Valorisation, an equity investor for the French Atomic Energy Agency (Commissariat à l'Energie Atomique). Sofradir retains the other 85%.
"ULIS has an ambitious program for long-term growth," says Delepau. "We aim to further develop the consumer market for infrared products, increase production capacity to reach 1 million IR detectors within the next five years, and be more active at the high end of the IR market."
Prior to joining ULIS as deputy managing director in 2007, Delepau spent for three years at ASK, a provider of RFID cards & equipment (first as product marketing director then as profit center director). From 2002 to 2004, he was product marketing director for the component division at digital video technology firm Thomson. Previously, he worked for four years as strategic marketing director for Alcatel's mobile GSM networks division. Delepau also has eight years of experience as a technology consultant at Booz, Allen & Hamilton and Cap Gemini. Trained as an engineer, he attended Ecole Polytechnique from 1983 to 1986 and Telecom Paris from 1986 to 1988, before earning an MBA from Insead in 1994.
See related item:
Sofradir wins Raytheon contract to supply MCT detectors to US Army
Search: Sofradir IR detectors MCT
Visit: www.sofradir.com