Tokyo-based Fujitsu Ltd says that its BroadOne WX300 has been selected as a critical part of the development of nationwide WiMAX services infrastructure by UQ Communications Inc, a mobile WiMAX operator in Japan that is jointly owned by KDDI Corp, Intel Corp, East Japan Railway Company, Kyocera Corp, Daiwa Securities Group Inc, and the Bank of Tokyo-Mitsubishi UFJ Ltd. UQ aims to start offering commercial WiMAX service in Japan in 2009.
Fujitsu says it is positioning its mobile WiMAX base-station equipment as a solution for the rapidly emerging wireless broadband market as it expands this business both inside and outside of Japan.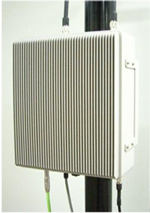 The BroadOne WX300 was developed by Fujitsu to be light, energy-efficient, and the smallest all-in-one base-station (incorporating the wireless transceiver, wireless signal processor, media converter, GPS receiver, and power supply in a single enclosure). The WX300 should accelerate the spread of wireless broadband access throughout Japan, the firm reckons.
Picture: BroadOne WX300 Macro Base Station.
The high-output transmitter (amp) of the single-unit outdoor base-station uses a gallium nitride (GaN) high-electron-mobility transistor (HEMT). This device is coupled with Fujitsu's digital pre-distortion (DPD) technology (which adds an input signal with the opposite characteristics to the distortion generated in an amplifier, correcting the distortion in advance). DPD technology has a proven track record in 3G systems, Fujitsu says, making the base-station one of the world's most efficient, it claims.
While delivering high-power, high-capacity data transmission with two high-output transceivers, the unit is the world's smallest outdoor macrocell base-station, with a weight of about 20kg and a volume of 20 liters. By combining high energy efficiency with a small enclosure, Fujitsu reckons it significantly reduces the costs associated with installing and operating base-stations, and will contribute to the global deployment of mobile WiMAX infrastructure.
See related item:
Fujitsu launches GaN HEMT-based mobile WiMAX base-stations
Search: Fujitsu Mobile WiMAX base-station
Visit: www.fujitsu.com/global