k-Space Associates Inc of Ann Arbor, USA has announced that it has developed what it claims is the first real-time, in-situ multi-wafer temperature mapping system for MBE. By utilizing its kSA BandiT temperature monitoring system, along with rotational synchronization techniques, the company says that the new technology allows for full platen temperature mapping of all wafers in real-time during MBE growth.
k-Space did not name the customer, but said that a "leading" RFIC manufacturer has already installed multiple units for use with multi-wafer production MBE systems.
According to k-Space, the system offers the only monitoring technique that can provide real-time, 2-dimensional temperature information for all wafers during growth. Thermal uniformity profiles can be monitored and adjusted via typical multiple filament heating zones used on production MBE systems. The mapping system is also available for single wafer MBE and MOCVD systems, where full wafer temperature uniformity measurements are required.
By using the fundamental band gap versus temperature material property of semiconductors, the kSA BandiT is not affected by changing viewport coating, stray IR light sources, reactor maintenance or system emissivity changes, says the company.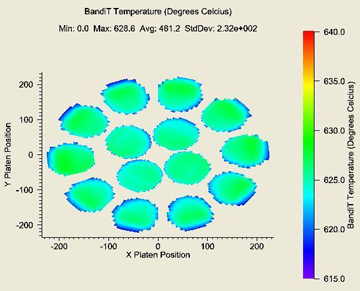 Figure: Real-Time kSA BandiT temperature map of 14 x 4" platen in production MBE system showing spatially-resolved wafer temperature during growth.
Configurations of the kSA BandiT are now available for most commercial single and multi-wafer systems.
Search: MBE
Visit: www.k-space.com