At last week's 2008 Asian American Engineer of the Year (AAEOY) awards in Richardson, TX, USA, two employees of defense and technology company Northrop Grumman Corp received awards for their contributions to science, engineering, and their communities: Clayton K.S. Kau (VP and general manager of Space and Defense Products Division) and Aaron K. Oki (a technical fellow and deputy director of microelectronics). Both work in the firm's Space Technology sector in Redondo Beach, CA.
"Both have made major contributions to the company's stature as a technology and industry leader," said Alexis C. Livanos, corporate VP and president of Northrop Grumman's Space Technology sector (NGST).
Oki leads a 300-member team in the development and production of compound semiconductor technologies. He was named a fellow by the IEEE Board of Directors for his work on compound semiconductor technologies and has also been recognized by the firm's chairman's/president's Award for Innovation in gallium arsenide and indium phosphide heterojunction bipolar transistor (GaAs and InP HBT) technologies.
Picture (right): Aaron K. Oki.
Oki earned a bachelor's degree in electrical engineering from University of Hawaii and a master's degree in electrical engineering from University of California, Berkeley.
Kau is responsible for all design and manufacturing activities and processes within the Space Technology sector as well as all microelectronics process development and fabrication. Previously, he was the VP and program manager of the Advanced Extremely High Frequency (EHF) program (the USA's next-generation, military strategic and tactical relay system, which aims to deliver survivable protected communications to US forces and selected allies worldwide).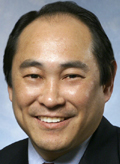 Kau earned a bachelor's degree in electrical engineering from the University of Pennsylvania, and a master's degree in electrical engineering and his engineer's degree from the Massachusetts Institute of Technology.
Picture (left): Clayton K.S. Kau.

The AAEOY awards are presented by the Chinese Institute of Engineers-USA to Asian American professionals in academia, public service and corporate entities for their personal achievements and significant contributions to their associated institution, communities and nation.
See related item:
NGST's Livanos elected member of National Academy of Engineering
Visit: www.st.northropgrumman.com