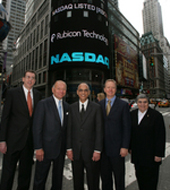 Executives from Rubicon Technology Inc of Franklin Park, IL, USA opened the NASDAQ market yesterday, celebrating the firm's performance since its initial public offering last November. Rubicon's stock opened at $14 per share, but closed yesterday at $27.87.
Picture: Rubicon's IPO last November was due in part to supplying sapphire substrates
used to produce LED lights such as those illuminating the NASDAQ sign in
Times Square. Photo: The Nasdaq Stock Market Inc.
Chief financial officer William Weissman attributes the firm's success to its crystal growth technology, efficient production, and growing market demand.
Rubicon manufactures monocrystalline sapphire and other crystalline products for LEDs, RFICs, blue laser diodes, optoelectronics and other optical applications. The firm applies its proprietary crystal growth technology to produce high-quality sapphire in a form that allows volume production of various sizes and orientations of substrates and windows.
Also, Rubicon is vertically integrated, with capabilities in crystal growth, high-precision core drilling, wafer slicing, surface lapping, large-diameter polishing and wafer cleaning processes, which it uses to convert bulk crystal into products with the quality and precision specified by customers. The firm is also actively developing larger-diameter products to support next-generation LED, RFIC and optical window applications.
Rubicon grows 58% and opens manufacturing facility
Rubicon appoints business expert to board
Rubicon announces pricing of IPO to raise over $100m
LED market drives Rubicon to expand sapphire substrate capacity
Search: Rubicon Sapphire LEDs Blue laser diodes
Visit: www.rubicon-es2.com