At last week's Optical Fiber Communication/National Fiber Optics Engineers Conference (OFC/NFOEC 2008) in San Diego, CA, USA (26-28 February 2008), Tokyo-based Sumitomo Electric Industries Ltd (SEI) launched three bi-directional modules in the SXT4000, 6000 and 9000 series for FTTH transmission. The products include:
the SXT4472 series diplexer for G-PON OLTs (ITU G.984.2 Class B+);
the SXT9241 series triplexer for G-PON ONUs (ITU G.984.2 Class B+);
the SXT6030 series bi-directional optical subassembly (BOSA) for point-to-point applications (IEEE802.3ah).
SEI says that the FTTH market is continuing to grow globally as demand for bandwidth increases, driving the need for carriers to upgrade from broadband passive optical networks (B-PON) to Gigabit passive optical networks (G-PON). By comparison with B-PON devices, G-PONs require high output optical power, improved receiver sensitivity and high-performance transimpedance amplifiers (TIAs). Also, for point-to-point applications, a small-size package is preferable for small-form-factor modules.
SEI says it satisfies these requirements through its vertical integration, with optoelectronic device manufacturing and in-house-developed packaging technology. "Our packaging technology improves reliability and contributes to smaller package size and lower manufacturing cost," claims Ichiro Kono, general manager of SEI's Optical Transmission Components Division.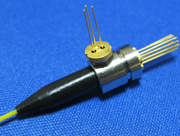 For example, the SXT4472 and 9241 series each incorporate, in a single TO-56 package, a laser diode, monitor photodiode, avalanche photodiode (APD), TIA and wavelength division multiplexer (WDM) filter, enabling system miniaturization and cost-competitiveness, it is claimed.
Picture: SEI's SXT9241 triplexer for G-PON ONUs.
See related items:
SEI launches 8Gb/s SFP+ transceivers for Fiber Channel
Fiber-to-the-Home to further expand reach in Asia-Pacific
SEI launches DWDM SFP transceivers with 3200ps/nm dispersion tolerance for 160km reach
Search: SEI FTTH G-PONs APD WDM
Visit: www.sei.co.jp