News
19 November 2008
Avanex appoints Barbarossa as president & CEO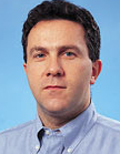 Optical communications component and module maker Avanex Corp of Fremont, CA, USA says that its board of directors has appointed Dr Giovanni Barbarossa as president & CEO, as well as a member of the board. Barbarossa has been interim CEO since replacing former CEO Jo Major in July.
Picture: Dr Giovanni Barbarossa.
After receiving a B.S. degree in Electrical Engineering from the University of Bari, Italy and a PhD from the University of Glasgow, UK, during more than 15 years of experience in the optical networking industry Barbarossa was a research associate at the UK's BT Labs, a member of technical staff at the USA's AT&T Bell Labs, and has held senior management roles in the Optical Networking Division of Agilent Technologies and in the Network Product Group of Lucent Technologies. He joined Avanex in 2000, and has since spent eight years in technical and operational roles. Before being appointed interim CEO, Barbarossa served as chief technical officer and senior VP.
Barbarossa's knowledge of the company and industry, his strong relationships with customers, and his performance during his tenure as interim CEO were key factors in the board's decision, according to chairman Paul Smith.
"Barbarossa has begun executing on key initiatives aimed at improving financial performance, including reducing the company's cost structure and expediting time-to-market on key product platforms," Smith says. "Giovanni has secured the confidence of the board, our customers, and employees, and we believe that he is the right person to lead Avanex during these challenging times," he adds.
"Avanex has significant opportunities due to its innovative operating model, which combines a low fixed-cost structure with industry-leading technology," reckons Barbarossa. "We are investing in new development efforts to expand our product portfolio and engaging with tier-1 customers for their next generation photonic solution needs."
See related items:
Avanex's gross margin falls more than expected as revenue shrinks 13%
Avanex cutting 8% of workforce and closing Florida facility
Search: Avanex Optical communications
Visit: www.avanex.com