News
18 November 2008
Finisar demos VCSEL array-based 40Gb/s parallel active optical cable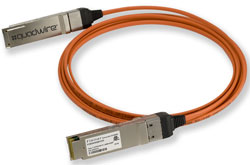 As part of the SCinet Network Infrastructure at this week's SC08 supercomputing event in Austin, TX, Finisar Corp of Sunnyvale, CA, USA, which makes fiber-optic communications components and subsystems, is demonstrating a new 40Gb/s optical link for data centers and high-performance computer clusters.
Quadwire is a parallel active optical cable that provides a 40Gb/s aggregate link via four 10Gb/s full-duplex channels. Based on the industry-standard QSFP form factor, the new cable uses fiber-optic technology to transmit parallel high-speed data over ribbon multi-mode fiber.
As InfiniBand supercomputing clusters move from double data rates (DDR) to quad data rates (QDR), existing copper cables present physical challenges to the system architecture, says Finisar. In addition to being heavy and bulky, these cables are limited to short distances as data integrity deteriorates over longer links.
By contrast, Quadwire features a parallel 4x10Gb/s optical bi-directional link, meeting the needs for increased data rates in longer lengths (up to 100m) while offering a lighter-weight solution and much smaller bend radius. In addition, Quadwire uses Finisar's vertical-cavity surface-emitting laser (VCSEL) array technology. The cable's small diameter supports large port count architectures, ultimately enabling simpler installations and fiber management, says the firm.
"The physical challenge of connecting InfiniBand clusters with bulky copper cables has been difficult to manage even at DDR data rates of 20Gb/s," says Jag Bolaria, senior analyst at The Linley Group. "As the first QDR (40Gb/s) InfiniBand switches and host channel adapters (HCAs) begin to roll out, active optical cables such as Quadwire are emerging as the interconnect solutions to overcome limitations of copper," he adds.
"Active optical cables are quickly becoming the next-generation interconnects of choice for high-speed data-center connectivity," says Jan Meise, Finisar's director of strategic marketing. "The introduction of Quadwire, our second optical cable product, marks Finisar's entry into parallel connectivity, supporting leading-edge cluster technology with a superior alternative to copper cables."
Finisar is currently supplying samples of the Quadwire active optical cable to customers.
See related item:
Finisar expands in China with new high-volume plant
Visit: www.finisar.com/cables