News
4 November 2008
IQE formally opens new Singapore plant
Epiwafer foundry and substrate maker IQE plc of Cardiff, Wales, UK has formally opened its new facility in Singapore, following the relocation of its Asia manufacturing facility.
The facility was opened by His Excellency Paul Madden, British High Commissioner in Singapore, along with IQE plc's CEO Dr Drew Nelson, and Lim Swee Nian, executive director of the Singapore Economic Development Board, in the presence of almost 200 guests (customers, suppliers, and contractors).
The firm says that the new plant will continue to produce wafers for wireless applications such as mobile phones and WiFi devices but will also provide capacity for new products such as materials for advanced electronics and high-efficiency solar cells (photovoltaics).
Over the last year, IQE's subsidiary MBE Technology (acquired in second-half 2006) has been relocating its manufacturing operations from a site at the Singapore Science Park that it had occupied since its formation in 1993, to the new facility within Singapore's newest industrial development area in Tampines.
The purpose-built, 8500m² facility houses over 2000m2 of specialized cleanroom and will allow for significant future expansion of manufacturing capacity in the Far East, says IQE.
In addition to relocating manufacturing tools from the original Singapore site, equipment has also been transferred from other parts of the group, particularly from the sister operation in Bethlehem, PA, USA. The firm says that the relocation of manufacturing tools was carried out in a way that has caused minimal disruption to existing production capacity.
"The opening of our new plant here today is the culmination of a major exercise to move plant and equipment from one site to another in a way that was seamless in terms of continuity of supply of products to our customers," said L G Yeap, managing director and founder of MBE Technology. "It is with great thanks to the professionalism, dedication and support of our key customers, suppliers and contractors and the experience and support of agencies such as the Singapore Economic Development Board (EDB) that the whole process has been completed on time and with minimal impact on our production processes," he added.
"Whilst it is unclear at this point what the impact of the global financial crisis will have on the wireless communications industry, the long-term demand drivers for the industry are as strong as ever and the demand for wireless products appears set to grow rapidly over the coming years, and this new facility provides us with the capability to add capacity as and when required," comments Nelson.
"This year also marks the 20th anniversary of the IQE Group, which currently operates manufacturing facilities on a global basis: in the UK; the USA; and, of course, the new facility here in Singapore."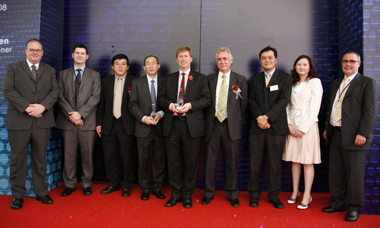 Picture (left to right): Chris Meadows, IQE, Corporate Communications/Investor Relations; Phil Rasmussen, IQE, CFO; L G Yeap, MBE Technology, MD; Teo Chong Key, British Foreign Commonwealth Office; His Excellency, Mr Paul Madden, British High Commissioner; Drew Nelson, IQE, CEO;
David Chan, Singapore Economic Development Board; Fong Pin Fen, Singapore Economic Development Board; and Howard Williams, IQE, COO.
See related items:
IQE reports growth in sales and profit
IQE acquires Singapore epiwafer foundry MBE Technology for £7.5m
Search: IQE Epiwafers Substrates
Visit: www.iqep.com