News
19 November 2008
Liu stays on as CEO of Oplink
Photonic component, module and subsystem maker Oplink Communications Inc of Fremont, CA, USA has confirmed that Joe Liu will not now resign his position as CEO on 31 December 2008, as was announced in mid-August. Instead, the firm's president Tom Keegan, who was to succeed Liu as CEO, will leave the firm effective 31 December, by mutual agreement. Keegan, who had been with Oplink as VP business development and general counsel since 2007, was appointed president in May 2008.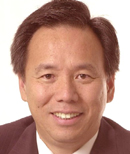 "We are grateful to Tom for his important contributions to Oplink during his tenure," said Len LeBlanc, chairman of the board. "However, given the current state of the industry, we believe that this is not the right time to undertake a management change and expect that Joe's experience and knowledge will successfully guide Oplink through these times. We are grateful to Joe for agreeing to continue to lead our Company."
Picture: Joe Liu.
"Looking at the challenges facing the industry," said Liu, "I feel it is in the best interest of our stockholders that I stay on as CEO to provide leadership continuity."
See related item:
Oplink controlling costs during near-term economic concerns
Oplink's earnings rebound as revenue falls less than expected
Oplink appoints president and general counsel
Search: Oplink Photonic components
Visit: www.oplink.com