News
20 November 2008
Solyndra wins $320m Carlisle PV contract for commercial roofing
Solyndra Inc of Fremont, CA, USA, a start-up founded in 2005 that designs and manufactures copper indium gallium (di)selenide (CIGS) photovoltaic (PV) systems consisting of panels and mounting hardware for commercial rooftops, has signed a multi-year sales contract worth up to $320m with Carlisle Energy Services, a newly formed division of Carlisle Construction Materials of Carlisle, PA (which has been manufacturing energy-efficient single-ply membrane roofing systems for more than 40 years).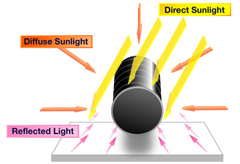 The contract raises Solyndra's order backlog (which includes contracts with German solar integrators GeckoLogic GmbH and Phoenix Solar, as well as US-based solar manufacturer and integrator Solar Power Inc) from $1.2bn to $1.52bn. The solar panels will be manufactured at Solyndra's 300,000-square-foot fully automated front- and back-end complex in Fremont (which has a production capacity of 110MW) as well as a planned 420MW plant in nearby Milpitas.
Solyndra has developed a proprietary thin-film cylindrical solar panel built from tubes that capture sunlight across a 360-degree photovoltaic surface capable of converting direct, diffuse and reflected sunlight (from below) into electricity. The firm says that this 'self-tracking' design allows the capture of more sunlight than traditional flat-surfaced solar panels, which require costly tilted mounting devices to improve the capture of direct light from the sun, offer poor collection of diffuse light, and fail to collect reflected light from rooftops or other installation surfaces. Also, gaps between the tubes and their frame let wind pass through, reducing the need for heavy fastenings or anchoring; their lighter weight also allows installation on scantier roofs.
Carlisle will work with an independent solar integrator to sell and install Solyndra's solar panels in conjunction with its Energy Star-certified, cool roof systems for commercial buildings. "The Solyndra PV system is a natural fit," says Carlisle Construction Materials' CEO John Altmeyer. "When installed on Carlisle's white reflective TPO roofing membrane, the output of Solyndra PV system increases up to 20%," he adds. "Further, the installation of a Solyndra system is exceptionally quick and economical, and can be easily accomplished by a roofing contractor along with the installation of an insulated cool roof. Together with Carlisle's large network of roofing installers, we can rapidly deploy systems which provide both energy conservation and low-cost solar electricity generation."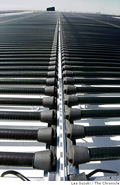 Insulated cool roofs, made of highly reflective and emissive materials, lower daytime air-conditioning electricity usage by reflecting away sunlight and heat. The rapid adoption of cool roofs in the western and sunbelt states of the USA has been helped by the support of the US Department of Energy's Energy Star Program and by the requirements of the California Title 24 Energy Standard, which prescribes cool roofs to be employed whenever low-slope commercial roofs are constructed or replaced.
In addition to being designed specifically for commercial rooftop installation, Solyndra's PV system uniquely benefits from installation on a cool roof due to the collection of reflected, direct, and diffuse light. The air flow through arrays of Solyndra's cylindrical panels allows such roofs to remain much cooler than with other PV systems. Also, the lightweight and non-penetrating PV system eliminates the negative impact on roof life and performance associated with either penetrating or heavier, ballasted PV systems and allows for easy removal of the panels for roof maintenance or redeployment of the panels to another facility, the firm claims.
"This agreement capitalizes on the Solyndra system's benefits for reflective commercial rooftops," says Solyndra's CEO & founder Chris Gronet.
Carlisle is in the process of installing a commercial-scale 50kW Solyndra PV system on the roof of its TPO manufacturing facility in Tooele, UT (joining an existing 3kW test system, as well as a similar-sized system at one of its facilities in Carlisle, PA). In addition to reducing conventional electricity usage, the commercial-scale installation will provide a well-situated showcase for prospective customers and business partners, says the firm.
See related item:
Solyndra wins $325m deal to supply CIGS PV panels to SPI
Visit: www.solyndra.com