News
30 October 2008
Aixtron rides Q3 bumps on track for full year target
Deposition equipment maker Aixtron AG of Aachen, Germany has reported third quarter revenue of €63.9m, down slightly on Q2's €65.6m, but up approximately 24% on Q3/2007's €51.7m. However, equipment order intake was down 28% sequentially to €52.2m, from €72.5m, and down 25% on the €70.0m recorded in Q3/2007. Aixtron says that the decline in orders is in line with the "digestion" phase of the current investment cycle that the firm predicted.
Gross profit for Q3/2008 was €26.9m, up on Q2's €25.8m and on the €19.9m recorded for the same period in 2007. Gross margin for the quarter was 42%, up 3% on Q3/2007. Third quarter operating profit (EBIT) dropped 16% from €8.9m in Q2 to €7.5m, but was up 50% on Q3/2007's €5.0m. Q3/2008 net profit was down to €5.5m, compared with €7.4m for the last quarter, but up around 64% on €3.4m for the same period last year. Equipment order backlog for the quarter was €158.1m, up 54% year-on-year.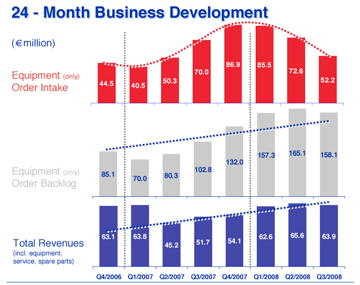 24-Month Business Development graphic courtesy of Aixtron AG.
For the first nine months of 2008, Aixtron recorded revenue of €192.1m, up 20% on the €160.7 achieved in the same period of 2007. Nine month equipment order intake was up 31% to €210.2m, from €160.8m a year ago. Gross profit was €77.3m, up from €62.4m in 2007. Operating profit (EBIT) for the nine month period increased 53% compared with 2007, up to €25.0m. Net profit for the period was €18.9m, up 28% on 2007's €14.8m.
Revenue from the sale of compound semiconductor equipment (including OVPD and SiC) was €160.9m (84% of total revenue) for the nine month period (up 50% year-on-year), compared with revenue of €10.2m (5% of total revenue) from the sale of silicon semiconductor equipment (down 70% year-on-year), and €21.0m (11% of total revenue) from service, spare parts, etc. Compound semiconductor equipment order intake increased by nearly 53% to €198.4m (94% of total equipment order intake) for the first nine month period.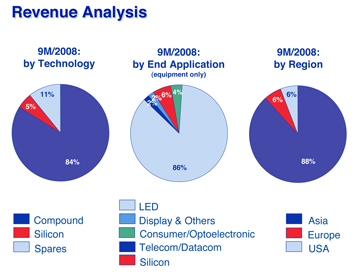 Revenue Analysis graphic courtesy of Aixtron AG.
Aixtron says that the increased revenues have largely been driven by strong sales of higher margin compound semiconductor MOCVD deposition equipment to the LED industry, particularly for backlighting products for liquid crystal display and commercial display applications. The firm adds that the continued weakness in its silicon semiconductor equipment revenues is in line with market conditions.
For the nine month period, Asia accounted for €169.7m in revenue (88% of total revenue, up from 86% last year), Europe accounted for €11.0m (6% of total revenue, flat on last year), and the USA accounted for €11.4m (6% of total revenue, down on 8% in 2007).
Paul Hyland, president & CEO of Aixtron, said: "In the increasingly difficult macroeconomic environment, our strategic focus and financial and operational flexibility are crucially important assets that we are striving to improve further. We believe that our 'pure-play' market-led developments and the flexible manufacturing strategies are exactly the focused approach required in the volatile market environment we are having to contend with. Our order intake recognition policy remains conservative and consequently we have not recorded any order cancellations to date."
Aixtron has reiterated its full-year 2008 guidance, forecasting total revenue of €270m and an EBIT margin of 12%.
See related items:
Aixtron orders dip 15% in Q2, but backlog still rises
Aixtron's orders hit peak after doubling year-on-year
Aixtron's revenues grow 25% in 2007
Visit: www.aixtron.com