News
21 October 2008
Bookham amplifier hits 10,000 hour life-test landmark
Optical component, module and subsystem maker Bookham Inc of San Jose, CA, USA says that it has demonstrated the reliability and stability of its telecom amplifier design and the Mini-DIL uncooled 980nm pump laser modules within it with results from a 10,000 hour amplifier life-test and a 38,000 hour discrete pump level life-test.
The three customized, compact, high-power amplifier gain blocks that underwent testing have a small form-factor design, taking advantage of the compact package size and low power consumption of the Mini-DIL uncooled pumps. The amplifiers operate at +19dBm output power and are typically deployed in single-channel applications within metro networks.
"The industry norm for life-testing amplifiers and other high-value modules and subsystems is just 2000 hours – we've carried out these life-tests to conclusively show that our amplifiers and pumps have industry-leading quality and reliability," says director of product management Mark Ives. "The market for line-side amplifier solutions is extremely competitive and is played out between just three dominant companies, so the systems houses look at product reliability as a key differentiator," he adds. "We are now at 10,000 hours for the amplifiers, but this testing will continue to build up valuable reliability information."
The parameters measured, in-situ every 6 minutes, included output power, noise-figure, and input and output monitor responses. The measurements read the health of the entire amplifier assembly, including all of the active and passive subcomponents within. The results demonstrate the high reliability of the design itself, the components, and the manufacturing process, says Bookham.
In a separate, discrete-pump-level extended life-test, a sample of Bookham's Mini-DIL uncooled pumps have been running at 200mW and 70°C – the product's uppermost operating conditions – for in excess of 38,000 hours, which is equivalent to about 20 years of operation under 'use' conditions. The pump life-test has revealed zero failures and shows no indication of any onset of wearout.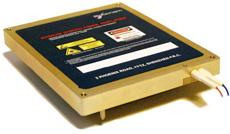 The Mini-DIL and other pump products are underpinned by chips from the Bookham's facility in Zurich, Switzerland, which also supports submarine applications, where far greater reliability and stability are demanded than in terrestrial networks.
Picture: Bookham high-power amplifier gain block, containing two Mini-DIL uncooled 980nm pump laser modules.
Bookham's portfolio of pump laser modules includes the fully Telcordia qualified, uncooled 750mW pump, which offers operating temperatures from -20°C to +75°C, providing reliable performance in central-office applications, office under fault conditions and uncontrolled environments. According to Bookham, this is believed to be the only pump module to offer 750mW power under such broad operating temperatures. The 750mW pump module was launched at the OFC/NFOEC 2007 event and has been shipping in volume for over 18 months.
The key elements of these life-test-proven compact, high-power amplifier gain-block products, including the uncooled Mini-DIL 980nm pump, feature within Bookham's MiNi Block µ7040 product, an ultra-compact 70mm x 40mm x 7.5mm gain block, which was launched at the ECOC 2008 event and is due to be generally available in fourth-quarter 2008.
Search: Bookham 980nm pump laser modules
Visit: www.bookham.com