News
1 October 2008
Nextreme appoints head of new telecom- and photonics-focused thermal management products unit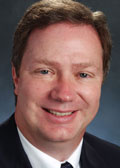 Nextreme Thermal Solutions of Durham, NC, USA, which designs and manufactures microscale thermal and power management products for the electronics, telecoms, semiconductor, consumer, and defense/aerospace industries, has appointed Jim Mundell as senior VP & general manager of its newly created thermal management products business unit.
Picture: Jim Mundell, senior VP & GM of Nextreme's thermal management products business unit.
Nextreme's thin-film thermoelectric products are manufactured in volume with the copper pillar bump process, an electronic packaging approach that scales well into large arrays. The process integrates thin-film thermoelectric material into the solder-bumped interconnects that provide mechanical and electrical connections for high-performance/high-density ICs.
Mundell's appointment signals Nextreme's intention to focus on its thermal management products and to aggressively engage with the telecoms and photonics markets to enable integration of its thin-film thermoelectric OptoCooler product line into optoelectronic devices.
Smaller packaging and higher heat densities can directly affect the performance and longevity of existing optoelectronic devices, says Nextreme. Its products act as solid-state heat pumps and add thermal management functionality directly into the package to maintain the device's temperature at optimal conditions.
After graduating from Purdue University with a BS in Electrical Engineering Technology and an MBA, Mundell accrued more than 30 years of experience in managing and growing high-tech businesses in small and large companies. Most recently, he was Nextreme's chief operating officer, responsible for transitioning technology from research to product.
Previously, Mundell served in executive management positions at General Electric, Harris Corp, SCI Systems, and CTS Corp covering the semiconductor, microelectronic, and electronic manufacturing services businesses. He also has over 15 years of experience in managing and growing start-up companies.
"As an initial target, the telecommunications and photonics markets represent a large opportunity for Nextreme," says Mundell. "The size, efficiency and power-pumping capability of our thermoelectric product line make them ideally suited for optoelectronic applications," he claims. "We are also seeing a lot of interest for microscale thermal management in other markets, including computing, mobile and consumer product applications."
See related item:
Princeton Lightwave and Nextreme to develop coolers for SWIR focal plane sensors
Search: Nextreme
Visit: www.nextreme.com