News
2 October 2008
NGST president receives Caltech's International von Karman Wings Award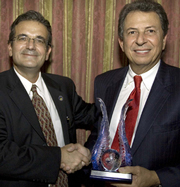 Last week, the California Institute of Technology presented one of its highest honors, the International von Karman Wings Award, to Alexis Livanos, corporate VP and president of Northrop Grumman Corp's Space Technology sector of Redondo Beach, CA, USA, in recognition of his achievements in space science and technology.
Picture: Livanos (right) presented with the International von Karman Wings Award by Ares J. Rosakis (left), chair of the Aerospace Historical Society and director of the Graduate Aeronautical Laboratories at California Institute of Technology. (Photo courtesy of Northrop Grumman.)
"Caltech and Northrop Grumman have a long history of collaborating to develop new technologies and new ways to apply them," says Northrop Grumman's chairman & CEO Ronald D. Sugar. "Alexis Livanos plays a significant role in ensuring that this collaboration continues to have a significant impact on the university, the company and our nation."
Livanos is the firm's fourth senior executive to receive the award, presented by the Aerospace Historical Society, which is part of the Graduate Aeronautical Laboratories at the California Institute of Technology (GALCIT). He joins Sugar, Simon Ramo (a founder of TRW Inc, which was acquired by Northrop Grumman in 2002), and former Northrop Grumman chairman & CEO Kent Kresa as award recipients. Kresa is also currently chair of the Caltech Board of Trustees.
"Livanos possesses the combination of unusual talents, experiences and accomplishments that makes him especially deserving of this award, the most prized in the field of aeronautical science and engineering," Ramo noted.
Presented at the society's 24th annual celebration on 25 September, the award recognizes and preserves the history of world-renowned aerospace engineers. The ceremony concluded a day-long symposium that celebrated GALCIT's 80th anniversary by highlighting alumni achievements. Earlier this year Caltech also bestowed Livanos with its Distinguished Alumni Award.
"The International von Karman Wings Award, in addition to honoring Dr Livanos' contributions to space science, further recognizes his strong interest in space-related engineering education," commented Caltech president Jean-Lou Chameau. "His work and vision in this area perfectly complement his exceptional technical achievements and leadership at Northrop Grumman."
Livanos has more than 30 years' experience in research and applications in the fields of microelectronics, solid-state physics, electro-optics and signal processing. His work helped introduce III-V compound semiconductors to space, including gallium arsenide (GaAs) metal-semiconductor field-effect transistors (MESFETs), high-electron-mobility transistors (HEMTs), and hetero-junction bipolar transistors (HBTs), resulting in unprecedented capability and performance for a number of highly significant national security spacecraft systems, says Northrop Grumman. He has also led research programs in gallium arsenide and indium phosphide devices, fiber optics and electro-optic subsystems, leading to an array of new government applications.
For those achievements, Livanos will be formally inducted next month into the National Academy of Engineers "for contributions to the development and insertion of advanced semiconductor technology for commercial and government space systems".
Livanos is a member of the Visiting Committee for the Division of Engineering and Applied Science at Caltech, and serves as chair of GALCIT's Advisory Council. He earned a bachelor's degree with honors in mechanical engineering, a master's degree in engineering science, and a Ph.D. in engineering science and physics from Caltech. He also taught applied physics at Caltech for two years as a post-doctorate fellow.
At Northrop Grumman Space Technology, Livanos is responsible for sector operations, where a broad range of systems using space, defense and electronics technology are developed. Previously, Livanos was sector VP and general manager for two divisions, Systems Development and Technology and Space Sensors Division, within the firm's Electronic Systems sector. He served as deputy general manager for the former TRW Electronic Systems and Technology Division and later as executive VP of operations for Space Systems/Loral.
See related item:
NGST's Livanos elected member of National Academy of Engineering
Search: Northrop Grumman GaAs InP MESFETs HEMTs HBTs
Visit: www.st.northropgrumman.com