News
7 October 2008
Sanyo develops record 450mW blue-violet laser for 12x writing
Japan's Sanyo Electric Co Ltd has developed a blue-violet (405nm-wavelength) laser diode that can deliver what is claimed to be a record maximum optical output of 450mW under pulsed operation for Blu-ray Disc products (about double the power of Sanyo's current highest-power Blu-ray laser). Output under continuous operation is 200mW and the operating current is 200mA.
Compared to the current maximum recording speed of six times faster than real time (6x) on dual-layer Blu-ray Discs (with a data capacity of 25GB per layer), the new laser is powerful enough to write at 12x speed on four-layer discs. As well as doubling total capacity to 100GB, this would allow copying of either 8 hours of SD (standard-definition) or 2 hours of HD (high-definition) film in just 10 minutes.
Sanyo says that, to increase the laser's optical output, it has made three major improvements. First, improved material and a new 'LASTECT' (Low optical Absorption STructure by Endurable Coating Technology) structure has reduced the amount of light absorbed by the end-face protective film (which acts as a mirror). So, about 95% of the light is passed through the multilayer front end face and stability is increased. Operation for 1000 hours at 80°C has been confirmed (a criterion for practical use). With the existing end-face structure, the device would fail in about 500 hours, says Sanyo.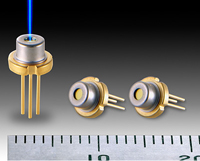 Second, to increase the optical conversion efficiency, Sanyo reduced loss from light absorption in the optical waveguide's cladding layer by more than halving the amount of impurities incorporated during layer growth, boosting optical output by 10%.
Finally, to ensure a more stable beam position, Sanyo says that it used simulations to optimize the shape of the waveguide and also improved the precision of the dry etching technique used to form the structure. The new laser has beam divergence angles of 8.5° and 19° in the horizontal and vertical directions, respectively.
The laser also has a compact size, with a diameter of just 5.6mm. The Blu-ray Disc Association has not yet standardized 12x recording or four-layer Blu-ray Disc systems, but Sanyo says that it will continue development and optimization of the laser, targeting mass production in the next 2-3 years (when the new drives and media to match the laser are expected to become available).
See related item:
Sharp aims for 400mW blue-violet laser diode by 2010
Search: Sanyo Electric Blue-violet laser diode Blu-ray
Visit: www.sanyo.co.jp