News
15 October 2008
Altatech, Evatec and DuPont launch deposition products at SEMICON Europa
Altatech launches CVD/ALD system integrating vaporizer technology
At last week's SEMICON Europa 2008 at Stuttgart Trade Fair Centre, Germany, process equipment maker Altatech Semiconductor of Grenoble-Monbonnot, France debuted its AltaCVD system for the chemical vapor deposition (CVD) and atomic layer deposition (ALD) of advanced materials.
The system uniquely integrates the chamber design, gas/liquid panel, and vaporizer technology (which enables deposition from new, viscous and non-volatile precursors). The combination of a proprietary reactor design and precursor introduction path with pulsed liquid injection and vaporization enables unique new capabilities for R&D facilities and pilot-productions lines, including nanoscale control of thickness, uniformity, composition and stoichiometry in complex materials, claims Altatech.
AltaCVD is suited to plasma-enhanced MOCVD and ALD of a wide range of materials used in logic and memory devices as well as in microsystems and 3D integration, such as high-k gate dielectrics, metal electrodes, high-k coupling dielectrics and electrodes in metal-insulator-metal (MIM) and DRAM capacitors, ferroelectric materials, chalcogenide alloys for phase-change RAM (PCRAM), seedless and self-forming copper diffusion barriers, copper seed layers, transparent conductive oxides, and thin-film battery electrodes and electrolytes.
AltaCVD's unique design and technology is in line with Altatech's product strategy, which aims to accelerate the introduction of the next-generation materials into the semiconductor supply chain, says technology director Hervé Monchoix.
Multiple beta versions of AltaCVD systems have already been installed for advanced high-k gate dielectric integration at front-end-of-line R&D facilities and for through-silicon-via (TSV) metallization at a back-end-of-line R&D facility.
Evatec launches cluster tool; installed at Philips' MiPlaza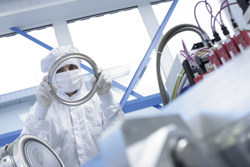 Evatec Ltd of Flums, Switzerland has launched its new Radiance multi-process sputter platform with cluster architecture for semiconductor and optoelectronic applications (available in variants for substrate sizes up to 12 inch; in addition, machined substrate holders gives the flexibility to process differing substrate sizes simultaneously).
Radiance is based around a central transport module with a vacuum cassette elevator, robot and load lock, and can be equipped with Evatec's single- or multi-process batch modules according to customer throughput and process requirements. Single modules can be configured for standalone PVD and CVD deposition or etch processes, while a six-process position batch module can be equipped for sputter, etch, heating and metrology. Substrate rotation combined with a capability for heating or cooling plus fingertip control of the source/substrate distance makes the tool suitable for critical process control environments.
The first tool is being installed at Philips Research's MiPlaza (Microsystems Plaza) facilities at its High Tech Campus Eindhoven, The Netherlands, which offers expertise, services and infrastructure to high-tech organizations both inside and outside Philips. The MiPLaza tool is configured with custom pre-clean and in-situ broadband optical monitoring capability, enabling deposition of the most complex dielectric stacks. Applications include laser optics, photonics and high-efficiency solar devices.
"Because MiPlaza is a shared facility, our processing equipment has to be versatile enough to support a wide range of applications," says Frank Dirne, head of MiPlaza's Thin Film Facilities. "At the same time, it has to satisfy highly demanding specifications. In this case we need flexibility in substrate materials and target materials, in conjunction with excellent quality of thin optical films," he adds. "The Evatec Radiance can fulfill both roles, as well as provide the predictive capabilities needed to accelerate technology innovation."
DuPont launches seals for thermal processes and PV manufacturing
DuPont Performance Elastomers (DPE) of Wilmington, DE, USA has launched Kalrez 8900 perfluoroelastomer parts for thermal processes that demonstrate longer seal life in higher-temperature semiconductor manufacturing processes and help cut costly downtime and reduce cost of ownership, the firm claims.
For static and dynamic sealing applications in thermal processes such as oxidation, diffusion furnace, metal chemical vapor deposition (CVD), atomic layer deposition (ALD) and low-pressure CVD (LPCVD), Kalrez 8900 parts offer performance that surpasses typical industry maintenance standards for greater equipment uptime, claims DPE. A combination of properties effectively extends seal life and produces higher-quality devices and greater yields.
The parts provide thermal stability with a maximum continuous service temperature of 325°C, very low outgassing properties, and excellent response to temperature cycling effects, the firm claims. They have been tested in a variety of process applications where temperatures routinely rise to above 300°C. Suggested applications include quartz tube seals, plenum seals, chamber seals and center ring seals.
Kalrez 8900 parts for aggressive thermal environments complement DPE's dry-to-wet range of perfluorelastomer parts (Kalrez 9100, Kalrez Sahara 8085, Kalrez 8002, and Kalrez 6375UP).
At both SEMICON Europa and this week's Solar Power International event in San Diego, CA, DPE also introduced Kalrez perfluoroelastomer parts designed specifically for the photovoltaic (PV) market.
DPE claims that, for both wafer-based and thin-film PV processes, Kalrez parts demonstrate broad chemical compatibility and excellent thermal stability, and can be used to help improve sealing reliability in critical PV wafer processing equipment that use plasma, high heat, and aggressive chemicals.
DPE says that, as PV manufacturers use more aggressive and efficient chemicals and higher temperatures to increase uptime and improve output, more strain is being placed on the manufacturing process. Unplanned maintenance due to incompatible sealing materials can interfere with production schedules, causing downtime. Kalrez parts can cut downtime dramatically due to less preventative maintenance (PM), increasing productivity and reducing the cost of ownership in the production environment, claims DPE.
Four Kalrez product groups are being introduced for PV manufacturing as well as for polysilicon feedstock production and abatement systems:
PV8030 for surface texturing, polysilicate removal and 'wet' scrubber/abatement applications;
PV8050 for edge isolation, anti-reflective coating (ARC), copper indium selenide/copper indium gallium diselenide (CIS/CIGS) and cadmium telluride (CdTe) cell layer and transparent conductive oxide (TCO) deposition processes;
PV8070 for doping, metallization, and CIS/CIGS cell layer deposition processes; and
9100 for amorphous/microcrystalline silicon cell layer deposition processes.
The entire line of Kalrez seals for PV manufacturing became available for sampling in late August. "We have recently sampled the new products to select PV customers and the initial results have been outstanding," says global business manager Rudy van Engen. "We expect that the PV market will experience similar reduced maintenance costs and greater equipment uptime as our more established markets have seen," he adds.
Search: CVD ALD Sputter platform
Visit: www.altatech-sc.com
Visit: www.evatecnet.com
Visit: www.dupontelastomers.com