News
24 September 2008
IEEE Compound Semiconductor IC Symposium (CSICS)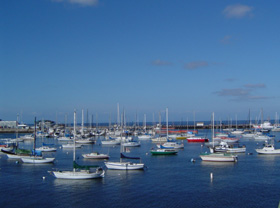 Now in its 30th year, the IEEE's Compound Semiconductor IC Symposium (CSICS) returns to Monterey, California, from 12–15 October.

Picture: Monterey harbour.

The high-performance wireless and high-speed digital communications markets are thriving due to impressive strides in new materials and devices, greater integration levels, novel circuit implementations, and ever-changing systems partitions.
Over the last 30 years the symposium has been and continues to be a pre-eminent international forum in which advances in semiconductor circuit and device technology are presented, debated, and discussed, say the organisers. The scope of the symposium encompasses devices and circuits in GaAs, SiGe, InP, GaN, and InSb as well as targeting the fields of RF/mm-Wave CMOS and high-speed digital CMOS to provide a truly comprehensive conference.
This year CSICS is co-located with the IEEE Bipolar / BiCMOS Circuits and Technology Meeting (BCTM). Joint functions, including a plenary session, social functions and the exhibition, will permit cross-fertilization of ideas between these two technical meetings.
CSICS is comprised of a full 3-day technical program with approximately 42 regular and 17 invited papers, the Sunday Short Course entitled "A Modeling Toolbox for RF Designers", and an industry Technology Exhibition. The Symposium will again offer the popular introductory level Primer Course on "Basics of Compound Semiconductor ICs". Highlights of the technical program include Robert Chau's plenary presentation on "Integrating III-V on Silicon for Future Nanoelectronics". Panel sessions include "GaN Technology for mm-Wave Applications - Will it Replace all Others?, " Is There Anything that CMOS Cannot Do? PA? Automotive Radar?", "Will the Next Generation Handset Technologies Please Stand Up?" and "Which Compound Semiconductor Technology Will Be Squeezed Out of the Walden Chart?"
The Technology Exhibition will take place in the Monterey Convention Center adjoining the Portola Hotel. The close proximity of the Exhibition and the technical sessions will promote a highly integrated experience for attendees. The exhibition offers vendors an opportunity to showcase various products and services including specialty semiconductor materials (epitaxy, substrates, high purity gases and related compounds), manufacturing equipment (including photolithography, etch, thin films, ion implantation), wafer surface analysis and metrology equipment and services, test and characterization equipment, simulation and modeling software.
To complement the Technical Program, there are several social events, which include the Sunday Evening CSICS Opening Reception, the Monday CSICS Exhibition Opening Reception, the CSICS-BCTM Tuesday evening Theme Party, and the CSICS Exhibition Luncheon on Tuesday. The Theme Party will take place at Chateau Julien Wine Estate which is nestled in the nearby Carmel Valley mountains. This event will include musical entertainment, wine tasting, tours of the vineyard and estate, and a feast in the estate courtyard.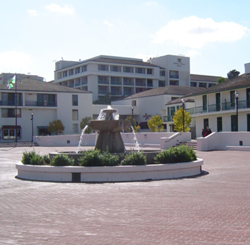 The Symposium will be held at the Portola Hotel & Spa at Monterey Bay. Situated 115 miles south of San Francisco and 350 miles north of Los Angeles, Monterey features a dazzling waterfront, a lush urban forest, and a rich array of historic and cultural resources, museums, gardens, and recreational activities. Further questions may be addressed to the Symposium Chair, William Peatman at wpeatman@anadigics.com
Picture (above): Portola Hotel & Spa, Monterey.
More information on the CSICS Exhibition can be found on the website or by contacting the Exhibition Manager, Sue Kingston, at s.kingston@ieee.org.
For registration and further information please visit the CSICS website at: www.csics.org