News
25 September 2008
Dow Corning launches Optimized Manufacturing Process program for LED overmolding
The LED materials group of Dow Corning Electronics of Midland, MI, USA has launched an 'Optimized Manufacturing Process' program, partnering with capital equipment providers to develop integrated LED overmolding processes designed to help LED makers reduce their overall production costs. The firm says that the partnership program streamlines the integration of manufacturing equipment and processes with its portfolio of silicone encapsulants, coatings and lens materials, enabling the production of better LED products and achieving faster time to market.
LED makers use a variety of overmolding processes – such as transfer molding, compression molding and injection molding – to form silicone resin-based materials into lenses and other optical elements that improve the lighting efficiency of LED devices. Dow Corning says that it has been working closely with a select group of equipment partners to develop optimized production processes that are easy to implement in LED makers' plants. Using this knowledge, Dow Corning says that it can work with LED suppliers to develop and implement a production process to meet their individual needs.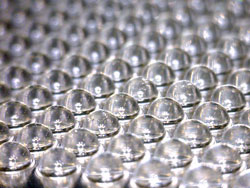 "With LED prices declining, LED makers are striving to increase manufacturing volume and lower production costs," says Billy Han, Dow Corning's global market manager for LED and light management products. "This new program is designed to help our customers address these twin challenges while remaining competitive and profitable through sustainable growth."
Picture: LED overmolds.
The optical clarity and thermal stability of silicone materials makes them particularly useful in high-brightness LEDs and in high-reliability applications. Dow Corning says that these qualities are helping silicone make inroads into a variety of fast-growing LED markets, including automotive interior lighting, cell phone flash modules, general lighting and especially emerging liquid-crystal display (LCD) backlights.
Search: Dow Corning LEDs
Visit: www.dowcorning.com