News
3 September 2008
JDSU launches 6398-L4i diode laser series with protection against fiber laser power feedback
JDSU of Milpitas, CA, USA has released an enhanced version of its most powerful fiber-coupled diode laser, the new 6398-L4i series. Designed for industrial, medical and dental applications, the firm says that the new product is the first of its kind to provide OEMs with a simple and cost effective way to protect diodes from destructive power feedback during fiber laser operation, and replaces the isolation systems currently used to protect diode lasers.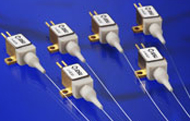 "Our customers have been asking for an easier and less expensive way to protect their diode lasers from fiber laser power feedback," said Franck Leibreich, manager, High Power Diode Laser Marketing of the Optical Communications business segment at JDSU. "JDSU has designed the L4i series as an elegant and simple solution that addresses this issue, while also providing all of the high performance capabilities that our customers have come to expect."
Key features include:
Highest power available in the industry at 10W with a package that has the potential for future scalability.
100 micron (µm) fiber delivery either at 0.22 numerical aperture (NA) or 0.15NA.
Smaller, more efficient package.
Simplified electrical design removes need for additional parts, making the diode laser easier to integrate into OEM systems.
Available in a variety of wavelengths in the 910 nanometer (nm) – 980nm range.
See related items:
JDSU's margins hit by supply and capacity constraints
JDSU extends fiber-coupled diode laser range to 8W; launches commercial laser with telecom-based architecture
Search: JDSU Optical communications Fiber-coupled diode laser
Visit: www.jdsu.com