News
9 September 2008
Osram selected to supply LEDs for tunnel lighting
Canada's Dellux Technologies Inc has selected Golden Dragon LEDs from Osram Opto Semiconductors GmbH of Regensburg, Germany for the luminaires to be installed in the Thüringer Schmücketunnel, a tunnel on the A71 road in Germany. The tunnel will be the first in Germany and the longest in Europe to be illuminated by LEDs.
According to Osram, the luminaires and LED light sources have a minimum life of 130,000 hours (15 years), and use 30% less energy (saving 10,000 kWh annually) than 70 W high-intensity discharge lamps. Osram LEDs have a stable lumen degradation curve and show hardly any color location shifts throughout their life, adds the firm.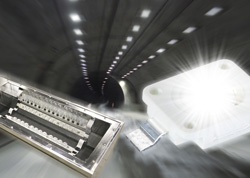 The light sources to be used in the tunnel can be adjusted to provide the prescribed luminance levels during both day and night. By day the required luminance in the tunnel is 4.65 cd/m² (requiring 70 W), whereas by night 0.8 cd/m² (12 W) is sufficient.
"We have installed redundant LEDs in each luminaire to offset soiling and degradation losses," said Wolfgang Medenwald, VP Business Development Europe, Dellux Technologies. "We also operate the LEDs at only 85% of their rated current to achieve greater efficiency and durability. Our patented light degradation compensation technology can maintain the required light levels for a minimum of 15 years despite the difficult conditions in the tunnel."
See related items:
Osram Opto LEDs illuminate 'Dragon Fountain' in Beijing's Olympic Park
Osram Opto partners on Shenzhen LED street lamp project
Search: Osram LEDs Golden Dragon
Visit: www.osram-os.com
Visit: www.dellux.ca