News
20 April 2009
OPEL forms subsidiary to partner with European solar project developers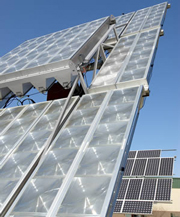 Late last month OPEL International Inc of Toronto, Canada, which makes high-concentration photovoltaic (HCPV) panels (as well as both roof- and ground-based dual- and single-axis solar trackers for mounting them), formed a limited liability company OPL Solar Europe (OSE) in Brussels, Belgium. The aim is to open up solar markets and projects for OPEL's products throughout Europe and the Mediterranean basin.
OSE is a financial holding company that allows subsidiary companies to form limited joint ventures and partnerships with solar developers so that utility-grade solar farms can be financed and installed featuring OPEL technology. The solar farms will be sold to subsequent investors acting as power suppliers. "OSE functions as the hub of all OPEL solar projects, partnerships, and joint ventures on the European continent," says Eric Vanbutsele, a senior OPEL executive and European managing director.
Opel International was founded in 2000 by Daniel Upp (formerly of ITT Corp's Advanced Technology Center then TranSwitch Corp), originally to develop integrated DSL circuits for telecoms, before refocusing on PVs after the telecom bubble burst. Products are based on technology developed in cooperation with Canada's National Research Council in Ottawa and the University of Connecticut, where OPEL has a lab (via its US subsidiary OPEL Inc of Shelton, CT). Opel International has been awarded 31 patents and has 15 more patents pending. The firm (which has 26 staff) started production of HCPV panels and tracker systems last December.
OPEL aims to supply grid farm installations featuring its dual-axis trackers and Mk-I HCPV panels, which are designed for grid-connected systems and medium to high solar irradiance. Each module uses a dual-element refractive concentrator to concentrate sunlight more than 500 times. GaAs-based triple-junction solar cells from Boeing-Spectrolab yield a conversion efficiency up to twice that of silicon solar panels and up to three times that of thin-film solar panels, it is claimed. The Mk-I (which is made in Mexico) obtained CE qualification for Europe last September.
OSE's formation is key to OPEL's global strategy, says OPEL International's president & CEO Robert Pico (also formerly of ITT and TranSwitch). "OSE's mission encourages its subsidiary companies and solar developers to launch projects to build solar farms using OPEL technology and products," he adds. "Europe has taken a leadership position in promoting solar power."
OSE inherits two existing OPEL International joint ventures announced last November and this January, respectively: with Alcapi Solarwent Management GmbH (ASM), a Republic of Germany limited liability company; and with Spain's BETASOL for a 440kW utility-grade solar power plant that is expected to supply to more than 500 households. OPEL began supplying Mk-I HCPV panels to BETASOL in December (for completion in first-quarter 2009), and will soon begin delivery to its first project with Alcapi Solarwent.
Connecticut's first rooftop tracking PV system goes live
OPEL Inc's rooftop PV installation at the Linden Street School in Plainville, CT (the first combined rooftop solar panel and tracker system in the state of Connecticut) went live in late March.
The Plainville installation features OPEL's patent-pending Sequoia tracker system, which includes 210 trackers and 770 panels generating 170W each. The Sequoia design (inspired by the root system of the Sequoia tree) is a non-penetrating roof design that allows simple installation and easy disassembly for any required maintenance.
The 131kW installation is a partnership agreed last June with the Town of Plainville and the Connecticut Clean Energy Fund (CCEF), which provides grants and rebates and contributed to funding the project. OPEL will own and operate the installation and sell electricity to the Town of Plainville at rates below those currently being paid. Annual savings of at least $7000 in electricity costs are projected. "OPEL's rooftop solar tracker system will generate up to 30% more kilowatt-hours than conventional fixed flat-plate silicon solar panels," claims Pico.
The system will supply energy for up to 20% of the 130,000ft2 elementary school's total electrical bill, eliminating 79 tons of carbon emissions, it is reckoned. "The Linden Street School solar power program reinforces Plainville's position as a leader in clean energy initiatives with the help of valuable funding from CCEF," says Plainville town manager Robert Lee.
The project highlights CCEF's focus on providing support for clean energy initiatives at Connecticut educational institutions, which now total 32 installations statewide, says CCEF president Lise Dondy. "We hope to continue developing and implementing these valuable renewable energy programs throughout the state for many years to come," she adds. "This innovative solar power initiative not only promotes a cleaner environment, but also offers a unique educational opportunity for our students at the Linden Street School to see solar energy in action firsthand," comments Plainville's Superintendent of Schools Dr Kathleen Binkowski.
Previously, last November, OPEL installed a 9.5kW grid-tied solar plant at The Sports Zone in Trumbull, CT, consisting of Mk-I HCPV panels along with its Mk-III low-concentration photovoltaic (LCPV) panels (designed for medium to low solar irradiance, using a V trough of highly reflective, weather-resistant materials to enhance conversion while reducing system costs), all mounted on SF-20 dual-axis tracker systems.

Search: CPV GaAs Spectrolab
Visit: www.opelinc.com