News
1 April 2009
Solyndra secures $535m DoE loan guarantee
Solyndra Inc of Fremont, CA, USA, a start-up founded in 2005 that manufactures copper indium gallium diselenide (CIGS) photovoltaic (PV) systems consisting of panels and mounting hardware for commercial rooftops, says that it is the first firm to receive an offer for a US Department of Energy (DOE) loan guarantee under Title XVII of the Energy Policy Act of 2005.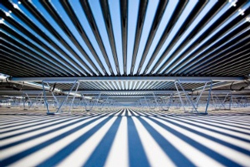 Solyndra will use the proceeds of a $535m loan from the US Treasury's Federal Financing Bank to expand manufacturing capacity for its cylindrical thin-film photovoltaic panels. With at least $1.52bn in announced sales deals, Solyndra needs to boost its production to fulfill its contracts.
Picture: Solyndra's panels employ cylindrical modules that have a 360-degree surface capable of converting direct, diffuse and reflected sunlight into electricity.
"The leadership and actions of President Barack Obama, Energy Secretary Steven Chu and the US Congress were instrumental in concluding this offer for a loan guarantee," says CEO & founder Dr Chris Gronet. "The DOE Loan Guarantee Program funding will enable Solyndra to achieve the economies of scale needed to deliver solar electricity at prices that are competitive with utility rates," he adds.
Solyndra has developed a proprietary thin-film cylindrical solar panel built from tubes that capture sunlight across a 360-degree photovoltaic surface capable of converting direct, diffuse and reflected sunlight (from below) into electricity. The firm says that this 'self-tracking' design allows the capture of significantly more sunlight from low-slope commercial, industrial and institutional rooftops at a lower installed cost than conventional flat-surfaced solar panels, which require expensive tilted mounting devices to improve the capture of direct light from the sun, offer poor collection of diffuse light, and fail to collect reflected light from rooftops or other installation surfaces. Also, gaps between the tubes and their frame let wind pass through, reducing the need for heavy, roof-penetrating fastenings or anchoring; their lighter weight also allows installation on scantier roofs. Simple horizontal mounting hardware also allows fast and economical installation, claims the firm. Solyndra's panels are fully certified for US and international use and have been shipping commercially since July 2008.
Solyndra has a 300,000ft2 fully automated manufacturing complex for producing the solar cell-lined tubes, and a second factory in nearby Milpitas for assembling the components into solar panels.
However, the guaranteed loan, expected to provide debt financing for about 73% of the project costs, will allow Solyndra to start construction of a second solar panel fabrication plant (Fab 2) in California. On completion, Fab 2 is expected to have an annual manufacturing capacity of 500MW. Over the project's life-span, Solyndra estimates that it will produce panels sufficient to generate up to 15GW of electricity (enough to avoid 300 million metric tons of carbon dioxide emissions). Further, Solyndra estimates that the plant's construction will employ about 3000 people, its operation will create more than 1000 jobs, and hundreds of additional jobs will be created for the installation of Solyndra PV systems in the USA.
Solyndra expects to start plant construction by the end of 2009, and to start production at the end of 2010 or early 2011.
"DOE, in consultation with independent consultants, performed a thorough investigation and analysis of our project's financial, technical and legal strengths," says Dr Kelly Truman, VP of marketing, sales & business development. "We are proud to be the first company to pass this comprehensive review, and we would like to acknowledge the exceptional efforts of the staff of the DOE Loan Guarantee Program Office."
Visit: www.solyndra.com