News
24 August 2009
First Solar/juwi CdTe solar farm becomes world's second biggest
Renewable energy firm juwi Group of Wörrstädt, Germany and First Solar Inc of Tempe, AZ, USA, which manufactures thin-film photovoltaic modules based on cadmium telluride (CdTe), say that the Lieberose solar farm, currently under construction in Turnow-Preilack, near Cottbus, Brandenburg, has just become the world's second biggest solar power plant and Germany's biggest, with an area of 162 hectares (equivalent to more than 210 football fields).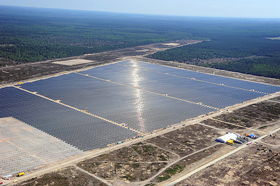 Picture: The Lieberose solar farm, which is still under construction.
This follows the placement of the 560,000th solar panel in the project by German Infrastructure Minister Wolfgang Tiefensee and Brandenburg Minister President Matthias Platzeck. With this project, juwi - using First Solar modules - has developed the three largest PV power plants in Germany.
Despite the current economic and financial crisis, since January the two firms have been building a utility-scale project with a total investment of more than €160m. In addition to producing the solar panels, First Solar helped to finance the project. Upon completion, about 700,000 thin-film CdTe PV modules (covering about 500,000m2), predominantly from First Solar's nearby Frankfurt/Oder factory, will produce about 53MW of electricity annually (sufficient for about 15,000 households). The solar farm is scheduled to be fully operational by the end of 2009.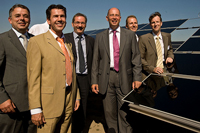 Picture: From left to right: Dietmar Woitke, Brandenburg Minister for Land Development and the Environment; juwi Holding AG head Matthias Willenbacher; Brandenburg Minister President Matthias Platzeck; German Infrastructure Minister Wolfgang Tiefensee; juwi Holding AG board member Fred Jung; and First Solar managing director Stephan Hansen.
"The Lieberose project demonstrates the success of Germany's strategy of combining local production of renewable energies with other strengths, including the knowledge and expertise that resides in local companies, networks, research organizations and universities," Tiefensee told 300 invited guests at the official inauguration.
"Lieberose is a model not just in terms of power and financing, but also in the conversion of military and other unused land," said Platzeck. "Land that was contaminated and off limits for years is being cleared of munitions and other pollution without any financial burden on the owner of the land - the state. The Lieberose solar park is an important step toward making solar electricity a significant force in the local economy," he added.
The project is being developed on Germany's largest former Soviet army training site (covering 26,000 hectares). Due to the relatively low investment and operating costs, it is possible to pay Brandenburg an attractive lease that finances the restoration of the site, including the removal of metal and soil contaminated by leftover grenades, shrapnel and munitions. After the end of the lease period, the solar farm can be removed, restoring the land to its natural state.
"We aim to enable a global power supply with clean and cost-efficient solar energy. The Lieberose project alone will help save about 35,000 tons of CO2 per year," say First Solar managing director Stephan Hansen and juwi's head Matthias Willenbacher. "It is also 'clean' in another sense... It is not only generating clean energy, but also ensures the removal of dangerous munitions," they add.
As general contractor, juwi partner juwi Solar GmbH is responsible for planning, logistics, supervising construction and delivering the finished solar farm, which is expected to be sold to an investor upon completion. "By their size and the efficiency with which the solar panels are produced, they contribute to significantly lower prices and to accelerating the advent of competitive solar electricity," said Willenbacher and Hansen.
EDF and First Solar to build France's largest solar panel manufacturing plant
Late last month, renewable energy firm EDF Energies Nouvelles (EDF EN) of Paris, France (a 50%-owned subsidiary of energy supplier EDF Group) announced a venture for First Solar Inc to build and operate France's largest solar panel manufacturing plant. The First Solar plant will also include a facility for recycling solar panels, France's first such facility and Europe's only solar panel recycling plant outside Germany. First Solar and EDF EN intend to announce their decision on the site location within the next few months.
With an expected investment of more than €90m, EDF EN has agreed to finance half of the capital expense and plant start-up costs and will benefit from the plant's entire output for the first 10 years. The initial annualized capacity should exceed 100MWp. At full production (projected for second-half 2011), the plant will employ more than 300 people.
The new venture will support the French government's recently announced goal to become a leader in sustainable energy technologies, including solar electricity. The investment decision was announced in the presence of French Sustainable Development Minister Jean-Louis Borloo. "I salute the decision of EDF Energies Nouvelles and First Solar to invest and create jobs in France's solar sector, which has begun to take off since the Grenelle de l'Environnement [an open multi-party debate instigated by President Sarkozy in summer 2007 to tackle environmental issue]." The investment confirms that France is in a position to play a leading role globally, he asserts.
"This agreement represents a key milestone in the strategy of our group," says EDF EN chairman Pâris Mouratoglou. The company raised €500m last year to finance its expansion in the PV sector, and has set a target of installing 500MWp in capacity for its own account by 2012. "Securing a competitive supply is essential for us to participate in the development of a large French solar market," Mouratoglou says. "We have successfully built a number of projects with First Solar panels. This strategic agreement is the result of a relationship built on trust and offers our two groups solid and promising potential," he adds.
"The decision to invest in France reflects our firm belief in the French market and its great potential," comments First Solar's chairman & CEO Mike Ahearn. "It represents a vote of confidence in the policies being developed by the French government since the Grenelle de l'Environnement to promote renewable energies and allow solar electricity to compete economically with other forms of energy," he adds.
"This decision by First Solar and EDF EN is a sign of our shared commitment to the future of solar electricity," says Ahearn. "We commend President Nicolas Sarkozy's leadership in promoting long-term policies to build a more sustainable energy future not just for France but the world," he adds. "Countries that create market frameworks that enable solar and other renewable energies to achieve commercial scale will reap the greatest benefits in private sector investment, technological innovation and job creation." The long-term commitments of the French Government to provide the policy and regulatory frameworks that enable robust solar markets and of EDF EN to invest in developing and expanding the French market were key factors in First Solar's decision to invest in France, he concludes.
See related items:
First Solar wins CdTe PV contracts: 55MW for Los Angeles and 550MW for Southern California Edison
First Solar to supply 10MW of CdTe PV panels for Lend Lease's Australia business
First Solar agrees multi-year supply contract with Pfalzsolar
First Solar to supply modules for Australia's largest PV installation
First Solar secures financing for 53MW German plant

Search: First Solar CdTe PV modules
Visit: www.firstsolar.com
Visit: www.juwi.de
Visit: www.edf-energies-nouvelles.com